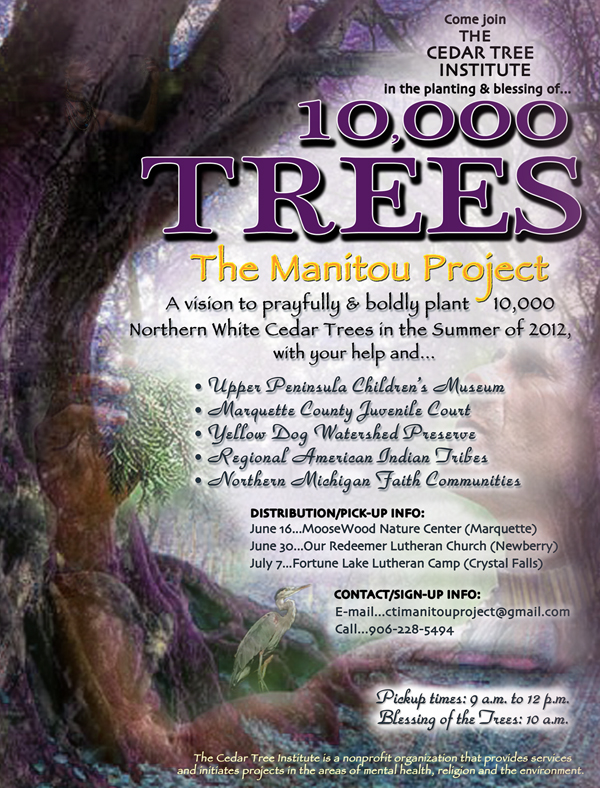 During 1997-2000 the Cedar Tree Institute planted 1,000 Northern white cedar trees across three counties in Michigan's Upper Peninsula.
Now, thanks to a collaboration of faith-based communities, environmental organizations and American Indian tribes, we invite you to support and/or join us during three weeks of June and July as we prepare to plant & bless 10,000 cedar tree seedlings. The Cedar Tree Institute has arranged for 250-300 volunteers from all walks of life to help us including a team of at-risk youth from Marquette County's Juvenile Court, volunteers from the Upper Peninsula Children's Museum, and individuals from the Roman Catholic, Lutheran and Jewish traditions.
Tree seedlings will be distributed at three separate locations and dates. The first will be at the MooseWood Nature Center in Marquette on June 16. The second will be at Our Redeemer Lutheran Church in Newberry on June 30. The third will be at Fortune Lake Lutheran Camp in Crystal Falls on July 7. We invite you to consider a donation of $2 per tree to help us transport them to each location and from their site in Free Soil, Michigan. Forms are available, upon request, to memorialize these trees in honor of a loved one, an anniversary, or community event.
Donations to this project can also be made below via Credit Card or PayPal. Simply select your desired level of generosity from the drop-down menu, and click the "Donate Now" button. All gifts are tax deductible. You will be emailed a receipt.
You can pickup trees anytime between 9 a.m. and noon. There will be a Blessing of the Trees at 10 a.m. at each site by a team of interfaith spiritual leaders.
For more information about 10,000 Trees: The Manitou Project or to sign-up, call 906-228-5494 or e-mail ctimanitouproject@gmail.com.
Help us by sharing this content!