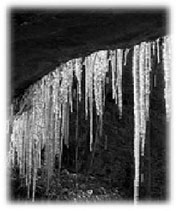 Choosing to live in Northern Michigan involves embracing a severity of soul. Although the Great Lakes are magnificent in their mystery and beauty, they are, as a kayak guide warned me years ago, unforgiving. Last summer we were reminded of such hard truths with seven drownings along 50 miles of Lake Superior shoreline. There were no distinctions: Victims included experienced fishermen and novice swimmers, residents and tourists, young and old.
Winter brings it's own harsh challenges. Stacking of firewood, hauling up lakeside cabin stairs, building shelters to protect household shrubs from snowstorms, buttoning up remote camps with shutters, loading cars with shovels and flashlights preparing for dreaded breakdowns on ice-covered rural roads.
Through the seasons, life here requires a balancing of energy and effort, a wise, intentional appropriation of available resources to meet challenges, both tangible and intangible.
This fall, the Cedar Tree Institute was involved in providing a training workshop for post polio survivors at Bay Cliff Health Camp. Three of us were presenting a series of mind/body techniques to reduce stress, addressing attitudes of proportion and expectation for 30 polio survivors, now in their 50s and 60s.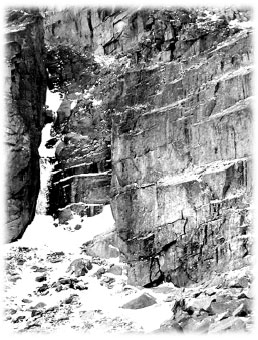 Most participants were from the Midwest but one couple, remarkably, traveled from Greece to engage in this week-long retreat. The husband, a practicing attorney in that country, a polio survivor, shared this story.
"In my country stands Mount Athos," he said, "the center of Eastern Orthodox monasticism. A priest once told me the monks, for years, hiked up to the monastery at the highest elevation, always arriving exhausted. Then, out of frustration, they decided to follow a donkey, to walk behind her. The monks soon discovered they could arrive at the top of the mountain tired, yet in good spirits. They recognized the donkey knew how to move up the steep mountain path in a paced, gradual way, not over-exerting, arriving rested, still strong."
When we listen, forests, rivers, streams and the humble creatures that live in such places offer hidden wisdom. Let the seasons lead us. Sink into ways of the wary deer and soaring sparrow hawk, breathe the rhythm of days.
And do not forget the monks of Mount Athos: Walk with eyes lifted toward mountaintops, slow down, find a pace, bow often.
-Jon
Journal Notes
Since 2000, CTI has worked with hospice medical directors Mike Grossman and Larry Skendzel to design and facilitate trainings for end-of-life workers and other medical professionals. Over two-hundred priests, social workers, physicians and teachers in Northern Michigan and Wisconsin have participated in mind/body medicine training events led by this team.
In FEBRUARY, our three-day Janus Project Winter Retreat used a small group experience to explore "The Intellect of Digestion: An Overview of Digestive Health and Gastrointestinal Disease." Frank Welsh and Madjar Shahar served as special presenters. Part of our retreat experience involved snowshoeing ten miles from the Big Bay Lighthouse to Granite Point.
This year's Summer Seminar held in AUGUST, we focused on the theme "Words that Work: Deepening Communication and Empathy in End-of-life Care." Stu Farber, Associate Professor with the Department of Family Medicine at the University of Washington joined us with his wife Lu as guest presenters. This retreat, as is our tradition each summer, took place in the context of a kayak trip along Lake Superior's rugged shoreline.

APRIL: C.G. Jung's recently published journal (1910 -1928) of his personal psychological and spiritual transformation, The Red Book, became the focus of a CTI April 2010 retreat, Symbol and Spirit, at St. Norbert's Abbey in Appleton, Wisconsin. Special thanks to Fred Gustafson, Jungian Analyst and ELCA Lutheran Pastor from Watertown, Wisconsin who joined us along with his wife Karen as facilitators for a small group of nine participants. The frontiers of psychology and religion, mental health and the inner life, continue to remain a central focus for CTI's ongoing work with faith communities and their leaders.
That same month, the CTI Director traveled to the Lutheran School of Theology at Chicago to lead a workshop on faith communities and environmental issues. Using lessons from the award winning Upper Peninsula interfaith Earthkeeper Initiative (2004-2009), he served as a workshop facilitator for youth leaders seeking to build deeper connections for young people between faith tradition and environmental activism.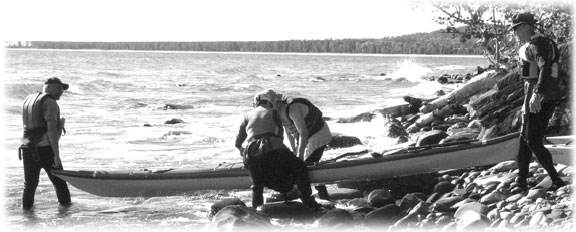 JULY: Since 2004, Marquette County has been embroiled in a controversy regarding a proposed sulfide (nickel) mine by Rio Tinto and its subsidiary Kennecott Minerals. They carry one of the worst records of environmental pollution and violations of human rights among major International mining companies in the world. In 2008, Norway withdrew all government investments from Rio Tinto in protest of the company's unethical behaviors.
The Cedar Tree Institute's Director and the local priest of the Buddhist community, Paul Lehmberg, were invited on July, 17 (Lake Superior Day) by residents of the Yellow Dog Plains to lead a day of prayer and fasting adjacent to Kennecott's leased mining operations. Over 60 persons attended to stand in solidarity with families who live in the area and whose lives will be negatively impacted.
AUGUST: A key signature of our Institute's inter-disciplinary work continues with our Spirit of Place retreats, held each summer in the context of a kayak journey along the shores of Lake Superior. This year, good friend Lee Goodwin assisted in facilitating this five-day experience in early August with eight participants from Ontario, New York, Michigan and Wisconsin. Conversations on ecology and spirituality shaped evening discussions along with reflections on journal excerpts from Jesuit explorers who traveled these same shorelines 400 years ago.
Special thanks to Sue Belanger, kayak guide, and to James Leaf who served as logistics coordinator. Christine Flavin, faculty member with NMU's Art & Design Department and one of this year's participants, served as photographer and recorded our shared experience. Her images grace several pages of this issue of the Ecotone.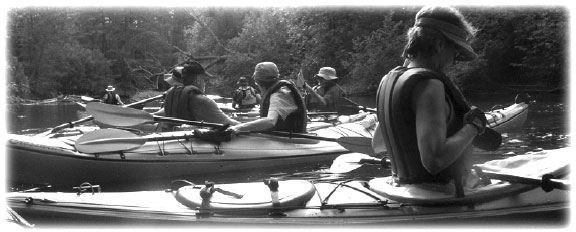 SEPTEMBER: Thanks to an invitation from Fred Maynard, a specialist in rehabilitation medicine, the CTI Director provided a mind/body medicine workshop for Bay Cliff Health Camp's Polio Survivor Retreat. This annual experience draws participants from across North America who having overcome the effects of a childhood disease, now in later years are experiencing onset of polio symptoms triggered by the aging process. A word of appreciation to Nancy Sullivan and Kirk Vestel, CTI Tai Chi practitioners, who assisted in this unique and educational event.
Also that same month, CTI's Director assisted Leslie Bek in facilitating a mind/body training experience for a Health and Wellness Retreat held at the Page Center in Gwinn, Michigan for 12 AIDS patients and their care-givers; sponsored by the Marquette County Health Department.
OCTOBER: CTI's Director along with Michigan State University Graduate School Social Work Intern, Tim Fillmore, designed and implemented a workshop entitled "The Shattered Vessel: Innocence, Grief, and the Developmental Journey" for 20 area (MARESA) high school and middle school counselors. .
And also in October, CTI joined several community organizations to sponsor Lois Gibbs, a Nobel Peace Prize Nominee and social activist, who traveled to speak to the Marquette community from Washington D.C. and meet with citizen leaders. In 1978 she led a mobilization of Love Canal residents near Niagara Falls in fighting to prevent chemical poisoning of her children and neighbors who were living on 20,000 tons of toxic waste left by a major petroleum company. As a 23-year-old mother with no college education, she led the battle to defeat one of the largest oil companies in the United States.
Thanks to Laura Farwell, concerned mother and local citizen, for organizing this remarkable event. Without question, the most extraordinary speaker for social justice and community health the CTI Director has heard in twenty years of work in religious communities from St. Ignace to Seattle, San Salvador to Chicago, Jerusalem to Marquette.

Binational Forum
The Cedar Tree Institute Director continues to serve as the United States clergy representative on the Lake Superior Binational Forum. This is a citizen-based advisory group with 12 Canadian and 12 US representatives, representing various public and private sectors that meet quarterly to make recommendations to both governments regarding the protection of the headwaters for the Great Lakes.
Reflections
PROJECTS, PHILOSOPHY & FINANCES
Four dynamics capture the secret of the "on-the-ground" work of The Cedar Tree Institute.
(1) We exist in time, not in space. We own no buildings or properties. Unhampered by overhead expenses, we have the option to retreat, rest, then spring to life mobilizing energy and resources.
(2) We're flexible and nimble in strategic planning. We exercise caution before embarking on any project. We make sure partners are in place, goals specific, timelines in place. If something appears to lack integrity or lack of sufficient support, we walk away.
(3) We unabashedly cross social and economic class lines. The majority of the Institute's projects involve disadvantaged youth, the unemployed and those who work for minimum wage. This particular characteristic of our work is grounded in our spiritual foundation.
At the same time, we collaborate with environmental leaders, medical professionals, university and church officials, representatives from the United States Forest Service, the United States Environmental Protection Agency and high-profile tribal leaders from Northern Michigan American Indian Tribes.
(4) We have a transparent, lean financial base, a wise CTI Board and a supportive Advisory Council. In 2010, Cedar Tree Institute income came from individual donations, consulting projects, family foundations, fees for counseling/mediation services, grants from the United States Forest Service, the Keweenaw Bay Indian Community and Marquette County Juvenile Court. Our Institute continues to contribute 1/3 of our services as pro bono to carry out various programs.
In Memoriam
Raymon Hutter
1926-2010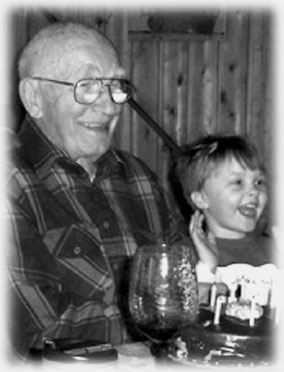 A longtime friend of the Cedar Tree Institute, Ray Hutter was a beloved husband, father, grandfather, railroad worker, salesman extraordinaire, and son of a saw sharpener at the lumber mill in Big Bay. He was a personal friend, informal strategist, and area storytelling historian for the Cedar Tree Institute's Director. For fifteen years, he and his wife Myrtle have shared their lakeside home on Eagle Nest Road for overnights with the Institute's Spirit of Place annual summer kayak trips taking place along Lake Superior's shoreline.
Though raised in Finnish hunting and fishing culture, Ray despised random violence, never choosing to be a hunter. Working summers as a youth on a dairy farm in Paynesville, he developed a remarkable work ethic and was known for his uncanny ability to make a penny sing through the toughest of economic times.
A skilled carpenter, he was known for appropriate rants at television commercials, talking heads, politicians, and anyone, including puffed-up insecure preachers and shortsighted bishops that he sensed were giving folks any kind of spin.
As a young man returning from the Navy in 1946, he took Myrtle for a hike at the Huron Mountain Club and took a photograph of his new girlfriend sitting on a bridge over the Pine River. He carried it in his wallet, as the years went by, scratched and worn, until the day he died.
Thanks Ray, for your fine, good life among us. And to your son Peter and daughters Lois and Linda, along with Myrtle, prayers of gratitude for helping shape and share Ray's gifts with us over the years.
2010 COLLABORATIVE PARTNERS
Bell Hospital
Bay Cliff Health Camp
Marquette Alger Regional Education Association (MARESA)
Upper Peninsula Children's Museum
United States Forest Service
Lake Superior Binational Forum
Keweenaw Bay Indian Community
Marquette County Juvenile Court
Evangelical Lutheran Church of America (NGLS)
UP Home Health and Hospice
Lake Superior Hospice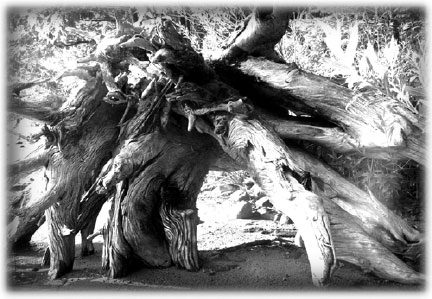 In Appreciation
One of the delights in piecing together this annual newsletter is to take a moment to honor the folks who quietly support our work with uncountable volunteer hours and unusual sets of skills. In ways they compose a "Robin Hood" profile of diverse individuals who share a passion of working for the common good on the edges of institutions and ideological paradigms. Among them, Rick Pietila, martial arts instructor, carpenter and guitar technician, Greg Peterson, volunteer media coordinator, Obadiah Metivier, Web site designer, Anne Rydholm, CTI bookkeeper, and Ray Hasenauer, hunter, gardener and social worker.
Mike Grossman continues to serve as key partner and sponsor for the Institute's mind/body medical training events, Larry Skendzel provides personal counsel to the Institute Director as member of our Advisory Council, and Kathy Jeske Casteel is our graphic designer of posters, program booklets and this annual newsletter. Doug Russell offers grant writing expertise, and Jim Elder and Steve Mattson, founding CTI Board members, never fail to bring the best of insight, counsel, and encouragement from the inside corridors of the rough and tumbled business world.
None of our work could be carried on without the quiet support of 85 donors who have helped us this past year from places as far away as Texas, Syracuse, New Mexico, Colorado and Washington. They represent all walks of life. We salute you! And pledge to continue doing our best to carry on this Institute's unfolding vision.
To all of you, our Thanks!
The Mending of Creation
WORKING AND LEARNING ON THE EDGE
with Tim Fillmore
Over the last five years, the Cedar Tree Institute has provided a field-site training program for Michigan State University's Graduate School of Social Work. Here are reflections from Tim Fillmore, a graduate of Michigan Technological University, now working as a student intern with CTI and also as a social worker with the Keweenaw Bay Indian Community. Tim brings extensive experience in cross-cultural work and will be graduating from MSU in May, 2011.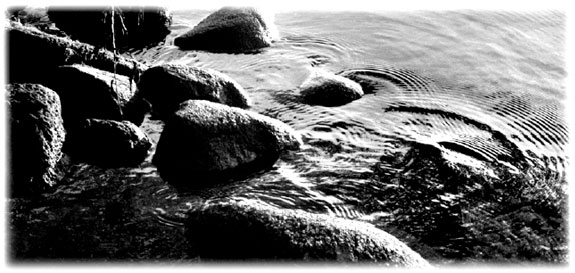 "I especially appreciate this opportunity to intern with the Cedar Tree Institute for 2010-201l via my clinical MSW program through Michigan State University. Borrowing from the title of this newsletter, I've always found myself working within some dimension of the ecotone. The word ecotone is derivative of the Greek prefix "eco" or oikos meaning house and the suffix "tone" or tonos meaning tension. Having spent ten years within both Native Alaskan Yup'ik and Anishinaabeg communities, I have witnessed both extremes of resilience and despair within the human condition. The tension that exists within these communities is very real and can be found, as all of us know who live here, throughout both the Native and non-native communities throughout the Upper Peninsula.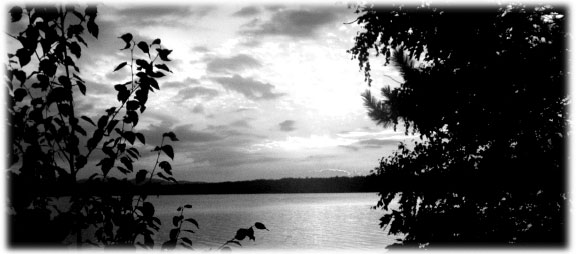 My collegiate and professional career has been a search for a means to address the socio-ecological ills that I have witnessed firsthand in Indian Country and the surrounding communities throughout both Alaska and Michigan in my work as a biologist, Tribal College instructor, secondary school biology teacher, substance abuse counselor, and as a Tribal social worker. None of these professions have provided, until now, the means, in my experience, to ultimately work successfully within these "houses of tension."

It is through this internship with CTI that I have been able to experience one example of a non-profit agency successfully working within the ecotone, addressing physical, emotional, social and spiritual dimensions to enhance both individual and group wellness.
This summer's 2010 Janus Project, for example, involved medical professionals working together to develop deeper connections between medical staff and the patients and families they serve. I experienced firsthand the physical challenge of navigating the Great Lake's shoreline, mind-body work through Tai-Chi, and small group workshops facilitated by our guest presenters. All of us worked together during this event on a first name basis. There was no special status for any of us in this experience.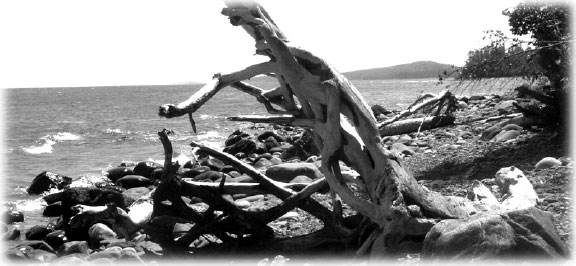 In October, I served as an Institute co-presenter for the Marquette Alger Regional Educational Service Agency (MARESA) in a CTI workshop on grief and adolescence. This training event brought together area school social work professionals to discuss grief and loss as it impacts children and teenagers. Creative small group activities triggered explorations of individual "ecotones" for participants around experiences of loss. I left the workshop with a special respect for CTI's ability to design and address sensitive, often conflicted individual experiences. Participants were provided an environment where they felt safe to discuss tensions in their own professional and personal lives.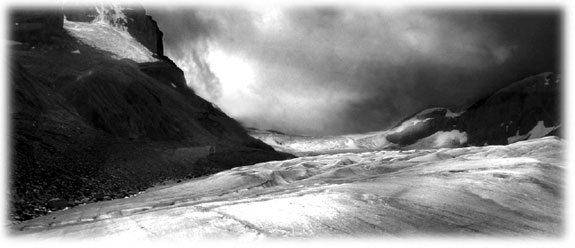 On a personal note, my children and I have also been actively involved in community-based efforts regarding protest of the Kennecott Eagle Project on the Yellow Dog Plains. Through my work with the Cedar Tree Institute, I have been able to reawaken my faith and determination to protect the social and ecological integrity of our home while learning to respect persons who think and feel differently.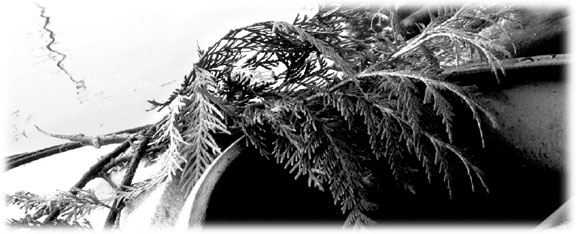 I would like to thank the Institute for these internship opportunities and for the learning that lies ahead. In the language of the Native people with which I work… Miigwetch (Thank you)."
-Tim Fillmore
Wings & Seeds – The Zaagkii Project
Native Plants and Pollinator Protection Initiative
2008-2011

Recovery of the natural ecosystem and restoration of original native landscapes of Michigan's Upper Peninsula are daunting challenges. CTI holds a deep commitment to the conviction that working to restore the natural world is connected to healing the human spirit.
For the last three summers, thanks to the support of the Marquette County Juvenile Court, the T.E. Davenport Foundation, the US Forest Service and the Keweenaw Bay Indian Community, we've coordinated 36 youth volunteers who have contributed 2,347 hours of community service. With sleeves rolled up, they've collected dozens of garbage bags of invasive plants, built bee houses, painted seed reliquaries and constructed butterfly shelters. This year Mike Shelafoe and Lacey Heinzelman served with the CTI Director as coordinators and facilitators.
Benchmarks for Zaagkii youth volunteer work (2008-2010) now includes:
58,000 native seeds distributed to local citizens and gardeners
18 butterfly houses built
36 bee shelters constructed
1,197 mushroom plugs planted in oak logs
1870 milkweed seeds distributed
28 research projects completed
53 cubic yards of invasive plants removed (garlic mustard, purple loosestrife)
273 guest meals prepared and served to community members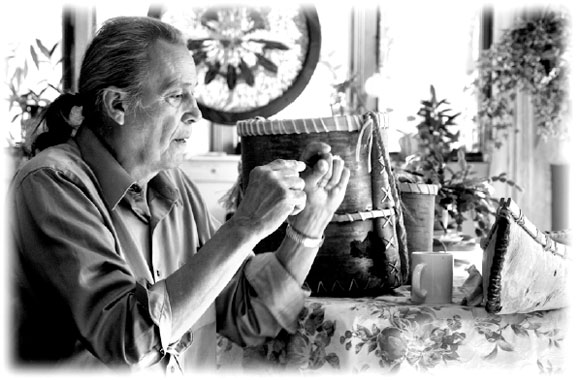 Another component of the Institute's 2010 Zaagkii Project included partnership with the US Forest Service and Northern Michigan University's Center for Native American Studies. Together we've established a Web site (www.wingsandseeds.org) and the filming of 15 hours of interviews with Ojibway elders speaking about traditional plants. These recorded interviews will soon be linked to the national USDAFS Ethnobotany Resource Center in Washington D.C.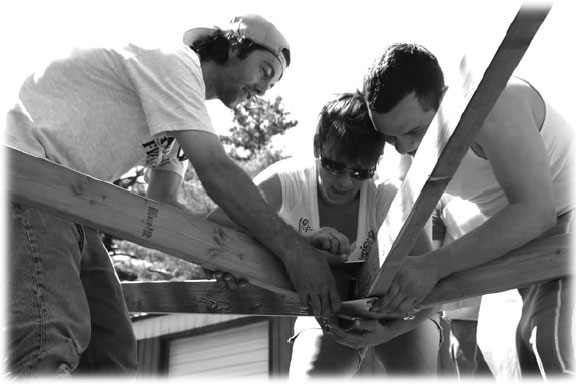 The "crown jewel" of our 2010 Zaagkii efforts has been the collaborative construction of a Native Plants greenhouse at the Keweenaw Bay Indian Community. Jan Shultz, botanist for the Eastern Region of the USDAFS guided this remarkable achievement, which will propagate, under the tribe's care, heritage seeds and native plants for generations to come.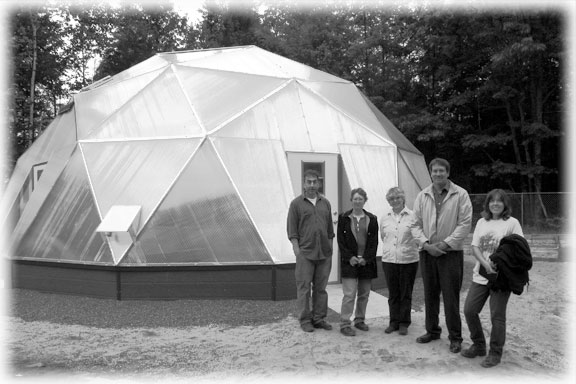 Rick Pietila served as the Institute's liaison and supervisor for the construction of the greenhouse. On August 31, 2010, dedication of the structure took place with guests from across Michigan, Minnesota and Wisconsin. Udgar Parsons, Founder of Growing Spaces, who designed and provided the components for the 33-ft. diameter geodesic greenhouse dome, traveled from Colorado to join us for the dedication ceremony that included a dinner of venison and fish, along with honor songs by the Four Thunder Drums.
We plan to continue this special work in 2011.
SERVICES
Consultation, Training and Education
CTI offers site-specific training and education designs for human service agencies, government organizations, churches and businesses in the areas of:

Leadership Development
Environmental Projects
Mind/Body Medicine
Tai Chi Chuan
Collaborative Projects with Native American Communities
Mediation and Dispute Resolution
Formal mediation sessions follow a specific process. Settlements that result from such sessions have proven to be more enduring and considerably less expensive than court-ordered decisions.
CTI offers this service for:

Small-Claims Conflicts
Landlord-Tenant Disputes
Divorce Mediation
Conflicts within Churches
Employer-Employee Disagreements
Business-Consumer Arguments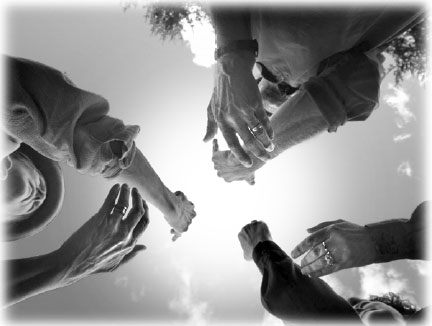 Counseling and Psychotherapy
The Institute works in collaboration with area hospitals, churches and human service agencies. An emphasis on the uniqueness of each situation and the spirituality inherent in each individual shapes all consultations.
CTI offers assistance with:

Work Difficulties
Spiritual Issues
Depression
Relationship Conflicts
Anxiety and Stress
Coming Up in 2011
CTI RETREATS and Workshops
THE IRON BUTTERFLY
A workshop on mind/body medicine and techniques to reduce stress and enhance physical and emotional health. (May)
TAI CHI CHUAN TRAINING
Ongoing classes in Qi Gong and Tai Chi Chuan. Marquette, Michigan.
(January-May, September-December)
SPIRIT OF PLACE
A kayak retreat on "Spirituality and Ecology" along Lake Superior's shoreline.
(August)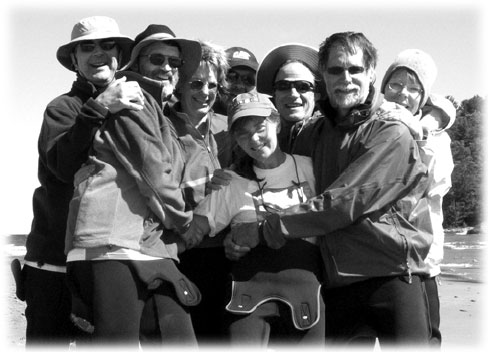 JANUS PROJECT SEMINAR SERIES
Continuing education events for medical professionals and hospice workers.
(March, August)
CROSSING BOUNDARIES
A series of three continuing education workshops specifically designed for church leaders and volunteers working with diverse ethnic and cultural communities. A series of presentations, discussions and small-group exercises on tensions and challenges working among differing socio/economic classes in Michigan's Upper Peninsula.
(April –May)
UNSUNG HEROES*
MSU intern Tim Fillmore will be working with the Institute's Director and family physicians Mike Grossman and Larry Skendzel to move forward with skill-building and mind/body training for "hands-on" workers (kitchen staff, nursing aides and custodians) in five of our areas's nursing homes.
(January-December)
*Our capacity to carry on this work is dependent on funding sources. For information
e-mail John Argeropolous at jargerop@nmu.edu or contact the Marquette Community Foundation at 906-228-7666