Over recent years, I've become fascinated with the puzzle of human resiliency. Apart from a person's genetics, what goes into building, physiologically and psychologically, a hardy temperament and a strong body? Some religious traditions speak to this, so do martial arts disciplines. But it's complicated. We do know some things: There are different kinds of strength: physical, emotional, spiritual. There's a kind of resiliency that comes from being stubborn, narcissistic and plain angry. There's also a resiliency that comes from sensitivity, flexibility, compassion, balance and inner conviction. From the outside, such "above-the-average playing field" kinds of strength seem similar. But the origins of these two kinds of resiliency suggest there's different ball games going on at the heart of the matter.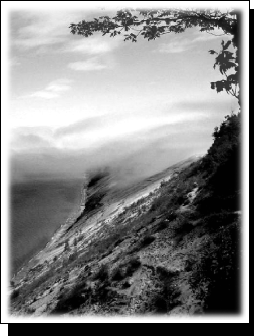 The natural world offers us intriguing lessons about such things. This fall I stood atop of a 300-foot ridge at the Grand Sable Dunes, a part of the Lake Superior National Shoreline, near Munising, about an hour's drive East. A Park Ranger knelt down and pointed out what appeared to be nothing more than some dune grass. He said wistfully, "This particular species, Marram or ammohila breziligulta, doesn't look like much. But interestingly enough, it literally thrives on adversity. The harder the winds, the more severe the temperature, the more uneven the rainfall, the stronger it grows. It's the first vegetation to bring back soil from rock and sand."
I later discovered that Marram grass doesn't seed like normal plants. It actually produces very few seeds, if any, atop the sand's surface. It propagates underground, through a maze of roots or what botanists call rhizomes.
A bottom line of real resiliency… not the rigid, look-at-me or mega-muscle tough guy version, but the "I'm not going away; I'm going to treat my enemies with respect; I'm ready to stand firm on honesty, generosity, compassion, and I'm not afraid, when the time calls for it, to do truth-telling in this world regardless of consequences"… is simply this: it's about roots, about a core of spiritual identity. In which the real work of saving this world is done underfoot, hidden, unheralded and quietly.
-Jon
Journal Notes
Mental Health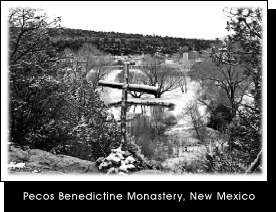 The Janus Project seminar series continued in 2009 with a winter workshop on "Rivers of Healing: Hematology and Perspectives on Third World Medicine." Special guest presenters included Carl Ehrling, MD (Seattle) and MGH oncologist Aaron Scholnik. Evenings were spent at the Big Bay Lighthouse and a remote cabin on the edge of Lake Superior. Our August seminar focused on "Breath of Life: Pulmonary Medicine and Palliative Care," with guest presenter Carl Hammerstrom, MD. Thanks to Mike Grossman and Larry Skendzel, hospice directors and family physicians who, since 2001, have continued to lead the way with exquisite leadership for these training events. Rick Pietila once again served as our logistical "Courier de Bois" (Runner of the Woods).
Project Hope, an outreach of The Cedar Tree Institute, though limited in funding support, continued its 14th year of service to clergy and families of the Northern Great Lakes Synod of the ELCA.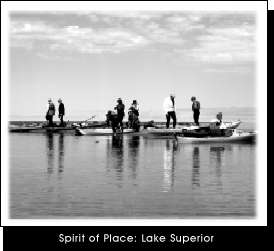 The Institute also provided assistance for the NGLS Synod's Sabbath Project, a series of four seasonal retreats for clergy, focusing on mindfulness practice and pastoral skills. Pastor Lee Goodwin, spiritual director, provides leadership for this innovative work. Contingent on funding, this project will continue for a second year in 2010.
Mind/Body Training was carried on for the 3rd annual Bay Cliff Polio Syndrome Retreat held in September. Thanks to Jim Shirtz who co-led this Qi Gong/Tai Chi event with the Institute Director and Dr. Fred Maynard. Our first Tai Chi ("Iron and Silk") Retreat occurred at Marygrove in Garden, Michigan in February with 18 participants. Leadership training workshops were carried out in October and November with Great Lakes Recovery Centers and the Marquette Unitarian Universalist community.
Religion & Environment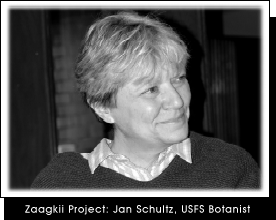 The signature of The Cedar Tree Institute, since its origin in 1995, has been engagements of spiritual sensibility alongside specific interactions of geographical landscapes. In 2009 the two Spirit of Place events took place. The first was a kayak retreat place along fifty miles of Lake Superior shoreline that focused on "Wisdom in Wilderness: The Poetic Vision of Mary Oliver," (August). The second was "God and the Bomb: Spirituality and the Challenge of Nuclear Energy," that occurred at the Pecos Benedictine Monastery and the National Laboratory at Los Alamos, New Mexico.
Sixteen individuals from across North America (Georgia, Texas, New Mexico, Wisconsin, Kentucky and Michigan) joined us for these two events. Special thanks to co-facilitators Bob Kraus, Larry Rasmussen, Louise Hanna, Lee Goodwin and kayak guide Sue Belanger.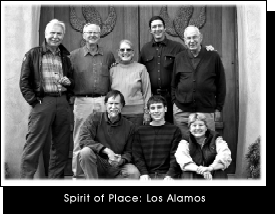 Upon invitation and support from an alliance of social activists, in April of 2009, the Institute Director traveled to London, England carrying documents from the Keweenaw Bay Indian Community and 100 religious leaders from Northern Michigan. These communications addressed a proposed sulfide mine that is under consideration for Powell Township and threatens the Salmon Trout River, a link to the Lake Superior aquifer. The Institute Director traveled with organic farmer and writer Gabriel Caplett. Both representatives formally addressed the Annual Meeting of Kennecott Minerals parent company Rio Tinto, one of the largest mining companies in the world. Rio Tinto is documented as perpetuating some of the worst human rights violations and environmental degradation going on in International mining practices.
Unsung Heroes
Mind/body medicine, stress-reduction and communication skill-building are the heart of this three-year project first began in 2007. This training is targeted for "hands-on" workers—kitchen staff, nursing aides and custodians—in five of the area's nursing homes and is scheduled to continue in January, 2010 in Marquette at the Jacobetti Home for Veterans. Our capacity to carry on this work is dependent on funding sources. For more information, e-mail John Argeropolous at jargerop@nmu.edu or contact the Marquette Community Foundation at (906)226-7666.
Reflections
Projects, Philosophy & Finances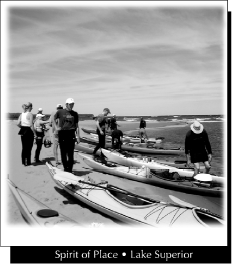 Four dynamics capture the secret of the "on-the-ground" work of The Cedar Tree Institute.
(1) We exist in time, not in space. There are no buildings or properties to maintain. Unhampered by over-head expenses, like an animal, we can retreat and go dormant… until just the right moment.
(2) We're flexible and nimble in strategic planning. We are cautious before we launch programs, retreats or workshops. We make sure partners are in place, goals are specific, timelines set. We walk away if we sense a lack of integrity.
(3) We unabashedly cross social class and economic lines. Many of CTI's projects involve disadvantaged youth, the unemployed and others who work for minimum wage. This dynamic is rooted in our spiritual perspective and is nonnegotiable. At the same time we collaborate with medical, environmental, university and church officials, as well American Indian tribal leaders.
(4) We have a transparent financial base, a wise Board and supportive Advisory Council. No one can do anything alone. When difficult decisions are to be made, they are made in a process of discernment and cooperation.
In 2009, The Cedar Tree Institute's income came from individual donations, community grants, fees for counseling/mediation services and consultations. One third (33%) of services are contributed pro bono to carry through our community service programs.
In Memoriam
Phyllis Reynolds
1918-2009
Phyllis served quietly as one of the first benefactors for The Cedar Tree Institute. For three years she made available the Peter White Estate on the Laughing Whitefish River for orientation and training of new priests and clergy from five different religious traditions. She also was an outspoken advocate for interfaith cooperation and helped support the first stage of the Earthkeeper Initiative. Phyllis was a modest, practical and unpretentious individual. Generations yet to come, will benefit from her wise and generous support of "the common good." Thank you for your kindness and vision, Phyllis!
John Burt
1919-2009
John, a former Episcopal Bishop in Ohio, was a fierce advocate for human rights. He was an advisor and mentor for The Cedar Tree Institute Director. A piano graced his log home at Middle Island Point at which for many years would echo his love for music. He also served as one of the first benefactors for The Cedar Tree Institute. For several summers he sauntered down to the beach to greet participants on Spirit of Place kayak ventures, sharing insights and reflections on theologians, writers and poets he had personally come to know over the years as a prophetic leader in the Anglican community. We salute you, John!
Fred Rydholm
1924-2009
Fred was a woodsman, historian, writer and beloved defender of the land, the rivers and forests of the Upper Peninsula. I watched him in his 80's speak at public hearings exposing the bad science and underlying greed that drives multinational companies to pillage some of the last of the best natural resources in Marquette County. His two volume "Superior Heartland: A Backwoods History" is a marvelous journey into the power of the Huron Mountains and Yellow Dog Plains. Your legacy carries us on, Fred! May your spirit soar with eagles high over the tree lines along the Bentley Trail.
Collaborative Partners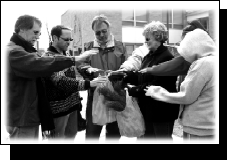 Lake Superior Binational Forum
Keweenaw Bay Indian Community
Marquette County Juvenile Court
Superior Watershed Partnership
Roman Catholic Diocese of Marquette
Environmental Protection Agency (USEPA)
Evangelical Lutheran Church of America (NGLS)
Department of Native American Studies, NMU
Keweenaw Home Nursing and Hospice
UP Home Health and Hospice
Lake Superior Hospice
In Appreciation
A Note on"What it Takes"
Ever done any building? If you've answered "yes" you know that the real stability of a house is mostly underground (foundation) and out of sight (electrical and plumbing inside the walls). The work of The Cedar Tree Institute, our small, nimble and creative nonprofit organization, is built on such invisible components: relationships, trust, shared vision, identified needs, and target-driven competencies.
Some key programs that we carry out never pay for themselves financially. We do them anyway. They are born out of a prophetic vision of how we see the world and serve as "signatures" for our work and mission. For every program and project you read about in this newsletter, at least twice as much planning time goes into each and every event before any actual implementation takes place. We're small and flexible. We go dormant when we need to. And spring to life when the timing is right.
There are also special folks behind the scenes who provide a compass to navigate the Institute's quiet ongoing work. They include, board members Steve Mattson and Jim Elder, advisory board members (see this newsletter's back page) and individuals like Greg Peterson, our volunteer outreach specialist, Obadiah Metivier, our Web site designer, Anne Rydholm, our bookkeeper, and Ray Hasenauer, hunter, gardener and social worker.
None of our work could have been accomplished without support of 79 anonymous individuals who helped us thus far financially in 2009 from a variety of walks of life and locations across North America.
To all of you, our Thanks!
Knowing Our Place
by John Rosenberg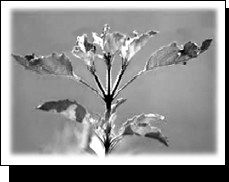 One of the things that first attracted me to the Cedar Tree Institute is its commitment to helping us to "know our place." Over the years, I've been helped to lead several Spirit of Place events on Lake Superior and the lower Columbia River. For those who have yet to experience one of these events, they are multi-day immersions in the natural and cultural history of a patch of earth, sky and water —a place in other words—that invite participants not only to experience life in a new way (from a kayak of all places!) but also to learn and reflect about place from a spiritual perspective.
Since the pilgrims who honor us by their presence at these events come from all over the country, part of our hope is that they will take their new-found spirit of curiosity and reflection with them to the places where they live and work. An unspoken but guiding premise of the work of the Institute is that all places have spiritual significance and that one key to a meaningful life is to bring ourselves into relationship and perhaps even harmony with the spirit of the places where we live. "If you don't know where you are," the poet and farmer, Wendell Berry, once quipped, "you don't know who you are."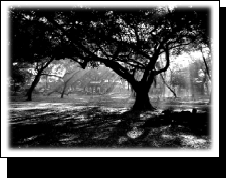 All that being said, I've often marveled at what a "tough sell" the idea of "knowing our place" is in our own spiritual traditions, especially the institutional church. There are undoubtedly many reasons for this, but my suspicion is that our "dis-placed" spirituality is closely related to our centuries-old tendency to de-value our primary means of experiencing place —our bodies. I also suspect that our difficulties in making the care of creation a more central part of our religious practice is related to our tendency to discount the importance and sacred nature of the places in which we live, work and raise our families.
If all the major theological, moral, and institutional decisions are made in the ballrooms of airport hotels or downtown convention centers—which is where my denomination, the Evangelical Lutheran Church in America, makes most of its decisions, it's not hard to see why the spirit of place plays such a small role in our decision-making. Once you're inside the ballroom or convention hall, you could be anywhere—or nowhere. It's not surprising that under such circumstances, we sometimes forget not only where we are but who we are.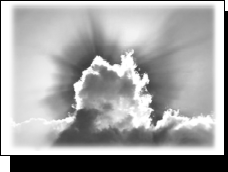 Perhaps one response might be to listen more closely to the people my bishop once referred to as "local poets"—the writers and artists, the historians and musicians who celebrate the places where we live. Writing about the importance of a sense of place, Wallace Stegner reflects on Berry's observation that if you don't know where you are, you don't know who you are:
[Berry] is not talking about the kind of location that can be determined by looking at a map or a street sign. He is talking about the kind of knowing that involves the senses, the memory, the history of a family or a tribe. He is talking about the knowledge of place that comes from working in it in all weathers, making a living from it, suffering from its catastrophes, loving its mornings or evenings or hot noons, valuing it for the profound investment of labor and feeling that you, your parents and grandparents, your all-but-unknown ancestors have put into it. He is talking about the knowing that poets specialize in. It is only a step from his pronouncement to another: that no place is a place until it has had a poet.1
I don't know who your "local poets" might be, but I invite you to do some exploring. If your place is really a place, then they're out there, doubtlessly working in relative obscurity to understand and know the place in which you both find yourselves. In discovering them, you may also meet some unknown allies and friends. —JPR
John Rosenberg is a CTI Research Fellow and Pastor of The Lutheran Church of the Good Shepherd in Olympia, Washington. He helped spark the idea of The Cedar Tree Institute on a cross-country ski trip in Montana with Jon Magnuson in 1994.
1 Wallace Stegner, "The Sense of Place" in Where the Bluebird Sings to the Lemonade Springs: Living and Writing in the West, Penguin, 1992, p.205
Wings & Seeds The Zaagkii Project
Native Plants and Pollinator Protection Initiative
2008-2010
Part of an emerging ecological consciousness is recognition that pollination is an essential, critical ecological function for our survival. Over 80% of the world's vegetables and fruits require a pollinator to produce. These pollinators include bats, butterflies, moths, flies, birds, beetles, ants and bees.
The Cedar Tree Institute continues environmental efforts alongside its on-the-ground work with Native American communities, at-risk youth and community volunteers. 2010 will move us into Phase III of The Institute's collaborative three-year effort, which has thus far included:
46000 seeds (native genomes distributed)
18 butterfly houses and 36 bee shelters constructed
19 research projects prepared and presented
1870 milkweed seeds distributed
40 cubic yards of invasive plants collected
63 native honeysuckle plants transplanted
200 seedlings planted for Borealis Native Plant Nursery
1786 hours of community service provided by volunteer youth
Thanks to the M.E. Davenport Foundation, the Juvenile Court of Marquette County, Borealis Seed Company and the Keweenaw Bay Indian Community for their support. And to Botanist Jan Schultz and the United States Forest Service, for guidance, vision and resources to carry out this environmental initiative.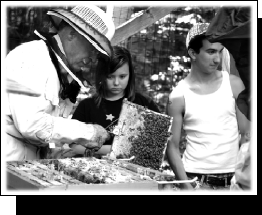 Special kudos to Levi and Leora Tadgerson, members of the Bay Mills Indian Community and student interns from NMU's Department of Native American Studies, who will be working with Institute staff to assist in building and sustaining a greenhouse at KBIC in 2010. Rick Pietila is coordinating building plans with tribal leaders. Also thanks to Erika Niebler and Tom Reed who served as project leaders in 2009.
At the heart of The Zaagkii Project are the donations of individuals. We invite you to join us with a gift in support of this project and other pro bono work of The Cedar Tree Institute. It's grassroots support that makes these dreams happen.
Earthkeeper Initiative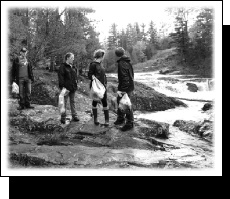 During the weekend of Earth Day 2009 (April), the Interfaith Earthkeeper Coalition organized the planting of 12,000 trees across Michigan's Upper Peninsula. This effort involved 127 congregations from 10 faith traditions. Special thanks to Kyra Fillmore, EK Communications Coordinator, and Co-chairs Gail Griffith (Universalist Unitarian) and Paul Lehmberg (Buddhist), who along with the Lake Superior Watershed Partnership worked together to make this happen.
Ben Scheelk and Amanda Emerson, this year's NMU's Earthkkeeper Student Team, carried through a river clean-up with volunteers from NMU in November. Lissa Radke continues to serve as a key connection for us as US Coordinator for the Lake Superior Binational Forum. Our special thanks to Liz LaPlante, Director for the EPA's Lake Superior Program, who continues to offer encouragement and key support for our faith-based efforts here from her office in Chicago. The Institute continues its role in providing limited funding and strategic leadership for the Earthkeeper's faith-based ongoing work here in Michigan's Upper Peninsula.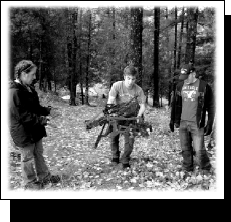 FOR MORE INFORMATION ON THE EARTHKEEPER INITIATIVE:
Kyra Fillmore, (906)228-2388 or Kyra.fillmore@gmail.com
~or~ Greg Peterson,
earthkeeper@charter.net
Services
Consultation, Training and Education
CTI offers site-specific training and education designs for human service agencies, government organizations, churches and businesses in the areas of:
Leadership Development
Environmental Projects
Mind/Body Medicine
Tai Chi Chuan
Collaborative Projects with Native American Communities
Mediation and Dispute Resolution
Formal mediation sessions follow a specific process. Settlements that result from such sessions have proven to be more enduring and considerably less expensive than court-ordered decisions. CTI offers this service for:
Small-Claims Conflicts
Landlord-Tenant Disputes
Divorce Mediation
Conflicts within Churches
Employer-Employee Disagreements
Business-Consumer Arguments
Counseling and Psychotherapy
The Institute works in collaboration with area hospitals, churches and human service agencies. An emphasis on the uniqueness of each situation and the spirituality inherent in each individual shapes all consultations. CTI offers assistance with:
Work Difficulties
Spiritual Issues
Depression
Relationship Conflicts
Anxiety and Stress