The 1500-mile highway circling Lake Superior crosses borders of two countries and weaves its way through stretches of dense boreal forests and along high-cliffed shorelines. It was first completed in 1963. Not long afterward, I made my first trip around it on a 10-speed Montgomery Ward bicycle carrying a tent and a Boy Scout cook kit. I've made two trips since. The most recent was for a citizen's forum last spring in Nipigon, Ontario. I was a passenger in a 1998 6-cylinder Jeep Wrangler with a driver who teaches for the nearby University's Department of Geography and, these days, is also serving a stint as faculty union president.
The Jeep, as one might suspect, is a hard ride. No air-conditioning, pullout light switches, stick shift and a set of Kevlar all-terrain tires that provide plenty of traction, but at the price of a more precarious center of gravity. I've taken previous trips to meetings in Canada with him. There are two things that make these trips special. The first is his grandfather's pipe, which he estimates is at least a hundred years old. It has a briarwood bowl, an ebonite mouthpiece and a design titled Bull Moose. The second is the realization that my colleague frequently stops from time-to-time to stretch his legs, but most importantly to smoke his pipe. He likes to make these stops at out-of-the-way trailheads, sheltered bays and historical sites.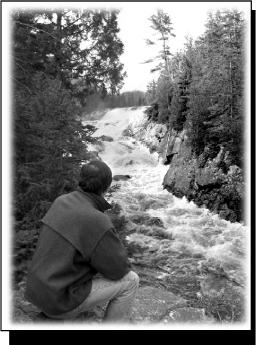 Last May, while returning south along Superior's vast northeast Canadian shoreline, he pulled over at a portage site. You had to be alert to see the turnout. He'd obviously visited this spot before. We walked on a path under the shadow of cedar trees alongside the weaving riverbank in silence, then parted for a few minutes to find our own spot-to sit and ponder the magnificent power of the tumbling cascade of water, and mist, and rock.
Life moves too fast for most of us. We justify ourselves by saying the bigger view is grand and there's always a destination calling. Rough economic times are reminding all of us that the real task of a Good Life is to bring depth, not simply breadth, to ventures upon which we embark.
You don't have to take a Lake Superior Circle Tour to find a place to unplug or rest. There are out-of-the-way spots on any of life's roads. Unexpected restoration and healing are often found in such places. But you'll need a guide. And most importantly, a decision to stop for a few minutes and step off the highway.
-Jon
Journal Notes
Travel and Other Notes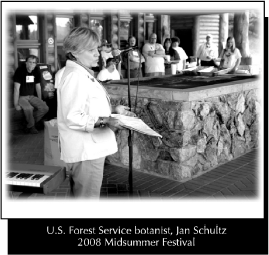 Trips to Nashville and Tallahassee in April connected the Institute director with Nanda and Pam Shrestha, friends of The Cedar Tree Institute. Nanda was a colleague during Peace Corps days in Nepal. Rick Pietila, martial artist and guitar tech for the band Boston brought the Institute director into his first MMA (mixed marital arts) training gym in Nashville. A week's sabbatical in Washington D.C. gave space for some extended writing projects.
Congratulations to Lee Goodwin, former parish pastor in Marinette, who received a Siebert grant to carry through the Sabbath Project over the next three years, a retreat program for ELCA clergy with a focus on mindfulness practices. The Cedar Tree Institute will be assisting in facilitating four seasonal retreats during 2009.
The Native American Studies Department at Northern Michigan University launched its first formalized, small group course, The Dynamics of Religious Experience and Native American Peoples of Northern Michigan. The Institute director served as instructor and facilitator. The course included two trips to area reservation communities to dialogue with spiritual tribal leaders.
Mind/Body Medicine
A key focus of the Institute since 2000 has been the frontier of mind/body medicine. Thanks to Michael Grossman, MD who continues to be a pioneer in this field of medical practice in Northern Michigan. Mike has worked with CTI on numerous trainings this year, including a workshop with the staff of Great Lakes Recovery Centers. Along with the Institute's regular weekly Tai Chi training classes and monthly retreats, the Phoenix Project involved sixteen teachers from Negaunee High School for two in-service trainings on this subject in February and April.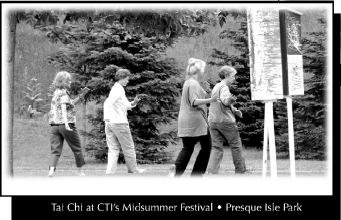 In June, the Institute facilitated a Saturday workshop at Presque Isle, called the Iron Butterfly: 7 Mind/Body Techniques to Reduce Stress. Our appreciation to Mike for his support of ongoing training at Harvard Medical School and the Benson/Henry Mind/Body Institute in Boston.
Mental Health
In March, The Cedar Tree Institute director served as a guest presenter for a Keweenaw Home Care and Hospice continuing education workshop on Ethical Decision-Making at the End-of-Life. We applaud Ray Weglarz, RN who continues to serve that rural-based agency in a creative, prophetic leadership style.
In September, the Institute director along with Larry Skendzel, MD and Rick Pietila served as facilitators at Marquette General Hospital for a Men and Grief conference for medical professionals. Clips from the film The Great Santini were utilized, along with a Zen Buddhist group experience to spark reflection on the grieving processes.
Working with physicians, hospice workers, social workers and clergy since 2001, fourteen seminars and retreats with the Janus Project have been designed and carried through by the Institute. These events always include a physical component- kayaking, canoeing, hiking-along with mind/body practices-Tai Chi, Yoga. In April 2008, our theme was The Hermetic Path: Perspectives on Infectious Diseases. In August, our focus was on Pain Management in End-of-Life Care.
Project Hope, an outreach of The Cedar Tree Institute, now in its thirteenth year of mental health work with Lutheran clergy and families, has been reduced because of funding restraints ($6500 to $1500) in 2008 and 2009, by the Northern Great Lakes Synod of the ELCA. The Institute carries on its work with anticipation that support may be renewed in 2010.

Embodiment was the title of an ecumenical retreat held in March at St. Norbert's Abbey in Appleton, Wisconsin sponsored by the Institute. Lee Goodwin assisted in teaching mindfulness practices. A focus on learning the Tai Chi ball form provided a framework for presentations by Denise Dufek, Wellness faculty member at Bay de Noc Community College.
Environment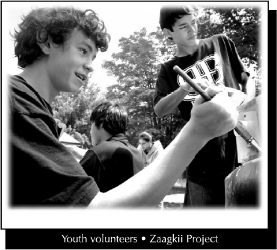 In September, the Institute director traveled to Ashland for a presentation at the Lake Superior Institute on: The Living Fire: Faith Communities and the Environmental Challenge. This was a step in assisting communities in Northern Wisconsin to mobilize churches and synagogues to address, in practical ways, impacts of climate change and sustainable energy use.
Lissa Radke, coordinator for the U.S. Delegation of the Lake Superior Binational Forum, reflects extraordinary skill, balancing competing interests of members of the Citizens Forum which meets around the lake four times a year. The Institute director continues to serve as a clergy representative alongside twelve delegates from the business, scientific and environmental sectors.
In February of 2008, the Environmental Protection Agency contracted CTI to help coordinate communication with faith communities in cities across the Great Lakes Basin for Earth Day. Greg Peterson served as chief communications liaison as part of this Earth Healing Initiative. In six weeks he created 40 Internet challenge videos for 25 EPA grant cities. 3,000 related photos were also distributed, along with nine press releases. Major stories were carried by Earth Times and Indian Country Today. Our commendation to Liz LaPlante, EPA Lake Superior Program officer, for her vision and encouragement.
The Unsung Heroes Project
Oriented toward "hands-on" workers, kitchen staff, nursing aides and custodians in five nursing homes, this innovative training series focuses on health, resiliency, self-awareness and communication skills. Continuation of this program depends on further funding. The Cedar Tree Institute staff and volunteers carry out this program. For more information, e-mail John Argeropolous at jargerop@nmu.edu or contact the Marquette Community Foundation at (906)226-7666.
This project was referenced in a December 2008 Marquette Monthly article entitled The Owl's Song: Working the End-of-Life Shift. Visit Marquette Monthly's Web site: www.mmnow.com
Reflections
…on the Cedar Tree Institute's Projects, Finances & Philosophy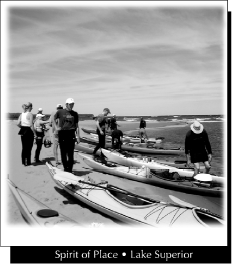 Four dynamics capture the secret of the "on-the-ground" work of The Cedar Tree Institute and how we practically are able to continue our work with no debts, no property and no full-time employees.
(1) We exist in time, not in space. There are no buildings or properties to maintain. Anne Rydholm, our new Institute bookkeeper, commented the other day, "The Cedar Tree Institute is…Energy." Unhampered by over-head expenses, like an animal, we can retreat and go dormant…until just the right moment.
(2) We're flexible and nimble in strategic planning. We are cautious before we launch programs, retreats or workshops. We make sure partners are in place, goals are specific, timelines set. The Institute also doesn't chase money. We can walk away, and sometimes do, if we sense a lack of integrity.
(3) We unabashedly cross social class and economic lines. Many of CTI's projects involve disadvantaged youth, the unemployed and others who work for minimum wage. This dynamic is rooted in our spiritual perspective and is nonnegotiable. At the same time we collaborate with medical, environmental, university and regional faith leaders, as well American Indian tribal leaders.
(4) We have a transparent financial base, a wise Board and supportive Advisory Council. No one can do anything alone. When sensitive and difficult decisions are to be made, they are made in a process of discernment and cooperation.
In 2008, The Cedar Tree Institute's income came from individual donations, community grants, fees for counseling and mediation services and consultations. One third (33%) of services are contributed pro bono to carry through our community service programs.
Collaborative Partners
Lake Superior Binational Forum
Project Weave and the RWJ Foundation
MGH Family Care Doctors
Episcopal Diocese of Northern Michigan
Keweenaw Bay Indian Community
Marquette County Juvenile Court
Superior Watershed Partnership
Bell Hospital
Roman Catholic Diocese of Marquette
Environmental Protection Agency (USEPA)
Evangelical Lutheran Church of America (NGLS)
Department of Native American Studies, NMU
Marquette District, United Methodist Church
Keweenaw Home Nursing and Hospice
UP Home Health and Hospice
Lake Superior Hospice
In Appreciation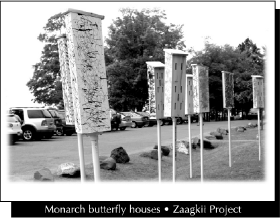 We extend our gratitude to Steve Rose who, since 2001, served as the Institute's bookkeeper and "Courier de Bois" (Runner of the Woods) for summer kayak trips and now has moved on to other ventures. We welcome Anne Rydholm who joins us as CTI's new bookkeeper. Farewell to Kit Enniss who served as the liaison with Judge Mike Anderegg for the Institute's summer projects with the Juvenile Court over the last five years.
And, a big thank you to Greg Peterson for outstanding work with our Internet communication, and to Obadiah Metivier for Web site skills.
Most of all, thanks to the 79 individuals from different walks of life, including a truck driver in Wisconsin, a cartographer in Ann Arbor, a speech pathologist in Denver, a physicist in Los Alamos, a mathematician in New York, retired teachers, school principals and clergy in Olympia, Washington, and a former rock-and-roll band member in California, who have gifted The Cedar Tree Institute's work with donations to help us on our way in 2009.
We couldn't do this work without you!
Paths
By Arvid Sponberg, CTI Research Fellow
Any path intersects all others if you follow it long enough. Poets know that. Given time, we will all weave our way into the fabric of the cosmos.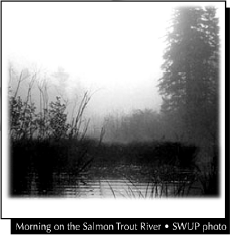 In life, however, we seldom know our location with certainty or get to see the end of the path before we reach it. The path we're on and the paths it crosses yield a rich variety of changing views. Our responses to change uncover the full spectrum of human emotions and motives-fear, resistance, suspicion, relief, enthusiasm, hope.
For several years, not far from The Cedar Tree Institute, one small place has incited a struggle over change. Should sulfide mining be allowed in the Yellow Dog Plains, a nearly pristine stretch of land that is sacred to the Bear Clan of the Anishnaabe?
This struggle has inflicted all the scars of modernity-complicated technical plans, public meetings, bureaucratic bargaining, protests, legal maneuvering, soothing assurances, bitter accusations. Through it, all can be seen a community trying to walk intersecting paths:
The path of material wealth and economic security
The path of environmental stewardship and responsibility
The path of sacred wonder and spiritual wholeness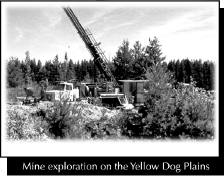 Probably one of these paths will be abandoned in favor of the other two. We are not yet wise enough to occupy these dimensions simultaneously. The integral calculus that will resolve this struggle remains to be found.
For thirty-five years, my route to work, on foot or bicycle, takes me across two busy streets. The streets parallel each other and the land between them is home to many small businesses. To cross these streets safely has increased my patience, agility, and cunning.
Until recently, I depended on traffic lights at a nearby intersection to stop the traffic long enough for me to dodge between cars.
Late last year, however, the federal, state, and city governments remade the intersection. A traffic circle, or roundabout, as they're called in England, replaced it. The circle achieved its purpose. Traffic flow improved. Accidents declined. Maintenance costs plummeted. Everyone's happy-except me.
Crossing the streets is now more dangerous. The speed of the cars has increased. The few gaps seem to close the instant I see them. I now think of these streets as the Roads to Emmaus because on them I'm now far more likely to meet my maker.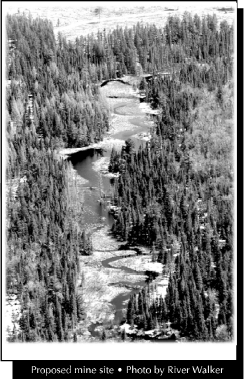 Both my university and my country have new presidents. Like them, the many paths ahead for each of us run through country we have never seen before. The nature of the terrain appears to defeat our old tools for travel – foot, wheel, hull, wing. We must imagine new tools to help cross these new unimaginable spaces.
How can we summon this creativity? I believe that a fine combination of patience and boldness is required-a willingness to wait for a break in the flow…of traffic, of ideas, of time-and then the fearlessness to dash into the stream as the break appears.
Boldness and patience combine dramatically in a Penobscot story of the Creation. Corn Mother tells her children to drag her sacrificed body back and forth over the "empty patch of earth…take my bones, gather them up, and bury them in the middle of this clearing…wait seven moons…and you will find my flesh there, flesh given out of love, and it will nourish and strengthen you forever and ever."
Crossing the streets is now more dangerous. The speed of the cars has increased. On our Yellow Dog Plains, or whatever patch of earth we may be crossing, each of us may be called to be Corn Mother. Not literally, I hope, but morally, intellectually, and spiritually. May patience and boldness, given out of love, nourish and strengthen us.
Arvid (Gus) Sponberg is Professor of Literature at Valparaiso University and a long-time friend and Research Fellow with The Cedar Tree Institute. Each summer he returns with his family to a cabin on Lake Superior a few miles north of Marquette where he spent much of his youth. For information on various perspectives on the proposed mine, you can visit two Web sites: The first sponsored by Kennecott Minerals at www.eagle-project.com The other sponsored by savethewildup.org, a coalition of community organizations and tribal communities who make a case for resisting this venture in this place at this time.
Wings & Seeds The Zaagkii Project
Native Plants and Pollinator Protection Initiative
2008-2010
The Cedar Tree Institute continues selective environmental efforts alongside its on-the-ground work with youth. CTI's commitment to restoring native plants and habitat in Northern Michigan parallels an inner work of repairing broken dreams of children and families. Phase One of this Initiative (2008) involved 23 youth and 15 volunteers. Work accomplished included 26,000 seeds (native geonomes) distributed, 18 butterfly houses constructed, 12 research projects completed and presented (on the Monarch butterfly), 30 cubic yards of invasive plants collected and 200 seeds planted for the Borealis Native Plant Nursery. In 2009, efforts continue with our hope of a native plants greenhouse constructed with the Keweenaw Bay Indian Community and continued work with youth from Baraga and Marquette Counties.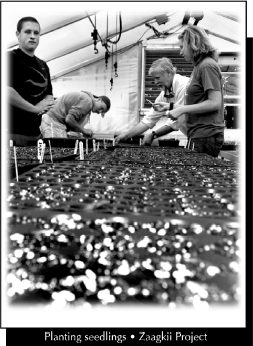 Tom Reed, naturalist and social worker, continues as Assistant Project Director in 2009. Peter and Cindy Kotila will be providing carpentry and art skills. Jan Schultz, regional botanist from the U.S. Forest Service, continues to guide and advise us in this work. Jan was quoted in the Christian Century Magazine (June 2008) in reference to the importance of protecting pollinator insects and plants that exist, mostly hidden from casual observers.
In 2008, we launched this new initiative with support from the Juvenile Court of Marquette County, Phyllis and Max Reynolds Foundation, Borealis Seed Company, L. G. Kaufman Endowment Fund, Keweenaw Bay Indian Community and M.E. Davenport Foundation.
At the heart of this project are the donations of individuals. We invite you to consider joining us with a gift in support for this project and the pro bono work of The Cedar Tree Institute. Grassroots contributions to make this dream happen.
Earthkeeper Initiative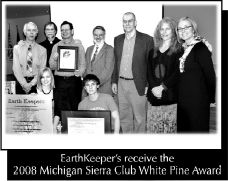 One of the sparks of light and hope for many faith communities in Northern Michigan is the ongoing work of the EarthKeeping Initiative. This effort, now in its fifth year, embraces 10 faith traditions. The work is coordinated by an Interfaith EarthKeeper Vision Council representing 135 congregations. Sarah Swanson and Ben Scheelk serve as student coordinators for the NMU EarthKeeper organization. Kyra Fillmore serves as the EarthKeeper Communications Coordinator.
2009 target goals include a campaign to build community gardens on congregational properties across the Upper Peninsula, organize tree-planting with faith communities for Earth Day and continue to promote good stewardship of energy conservation and stream restoration in our region's fifteen counties. Currently Gail Griffith (Unitarian) and Nancy Auer (Episcopalian) serve as EarthKeeper Vision Coordinators. The Institute's role continues to be an advisory one, with a special concern for the integrity and coordination of faith leaders. The Superior Watershed Partnership, a nonprofit environmental organization, provides key technical support.
FOR MORE INFORMATION ON THE EARTHKEEPER INITIATIVE:
Kyra Fillmore, (906)228-2388 or Kyra.fillmore@gmail.com
~or~ Greg Peterson, earthkeeper@charter.net
Services
Consultation, Training and Education
CTI offers site-specific training and education designs for human service agencies, government organizations, churches and businesses in the areas of:
Leadership Development
Environmental Projects
Mind/Body Medicine
Tai Chi Chuan
Collaborative Projects with Native American Communities
Mediation and Dispute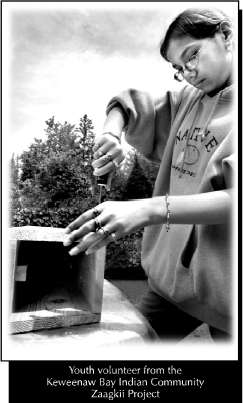 Resolution Formal mediation sessions follow a specific process. Settlements that result from such sessions have proven to be more enduring and considerably less expensive than court-ordered decisions. CTI offers this service for:
Small-Claims Conflicts
Landlord-Tenant Disputes
Divorce Mediation
Conflicts within Churches
Employer-Employee Disagreements
Business-Consumer Arguments
Counseling and Psychotherapy
The Institute works in collaboration with area hospitals, churches and human service agencies. An emphasis on the uniqueness of each situation and the spirituality inherent in each individual shapes all consultations. CTI offers assistance with:
Work Difficulties
Spiritual Issues
Depression
Relationship Conflicts
Anxiety and Stress