One sweltering afternoon last summer I stood on a ridge, peering down, through a growth of alder and birch, upon a small lake that remains unmarked on any conventional map. Six teenagers were with me, two probation officers, and a tribal member of the Keweenaw Bay Indian Community. We'd just finished hiking in off a gravel road, up a winding, overgrown path to a site where several of us had planted wild rice seed the previous September.
Swarms of mosquitoes were out that day, the humidity high. It was uncomfortable. Attention spans were short. Two thirteen-year-olds from our group, one known by adults as having an attitude problem, began pointing to a tree and shouting, "Bears! Bears!"
Sure enough, two little bear cubs were perched on a tree limb, fifteen feet above the ground, looking frightened and bewildered. A probation officer, alarmed, yelled, "Come back over here! It's dangerous!" The girls continued their inquisitive prance around the tree, pointing and laughing. Sensing the potential threat, I tried to encourage, without much luck, the two teenagers to move closer to the rest of us.
Then, echoing through the forest, my tribal friend, a colleague from one of our nearby Indian communities, bellowed, "Come back NOW! This is the bear's home! Their mother's nearby. We're visitors here! YOU'RE SHOWING NO RESPECT!" Without a second's hesitation, the two young teenage girls turned and meekly returned to join the group. Moments later, the ten of us slipped quietly down the path to return to our vehicles.
What made the difference between responses from these young girls? Pondering that question for some days, I've now come to believe it had nothing to do with obedience to external authority. It was a sudden awareness for them of connection, an empathetic link.
Our modern lives are threatened to be shaped increasingly by a sea of celebrity fixation and hi-tech pseudo-intimacy. Drugs and gambling are shamelessly marketed on our television sets, addictions ubiquitous. Much popular religion has become rigid, cold, small. Anxiety disorders are rampant. There's hunger for a deeper, more sacred way of looking at our lives, our landscapes, our neighbors. Indigenous perspectives, like my colleague's about the natural world, are dismissed for the sake of what many deem progress.
Hope is something longed for in the deepest recesses of the human heart. Once, in a Michigan forest, on the edge of a forgotten lake, in a single moment, two young, troubled girls awakened. I witnessed the healing begin.
-JWM
Journal Notes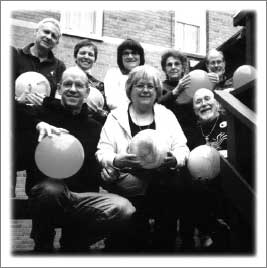 A special outreach of The Cedar Tree mission is offering support and training opportunities for Northern Michigan's priests and clergy. In November 2006, the first of a series of Embodiment Retreats were sponsored by The Cedar Tree Institute for eight clergy and church leaders in Northern Michigan. Co-facilitated by Lee Goodwin, Lutheran pastor and spiritual director, and Denise Dufek, Bay De Noc Community College wellness instructor, this two-day experience at Marygrove's Conference Center focused on integrating both spiritual and physical dimensions of the life of faith. The Tai Chi ball form from the Chinese martial art tradition was used as the central learning paradigm. Special thanks to Ann Constance, exercise physiologist and dietician from the U.P. Diabetic Education Network, who joined us with a presentation on Food as Medicine.
Thanks to a grant from the Siebert Foundation and support of the Northern Great Lakes Synod, an eight-day retreat series was designed by CTI to provide a training experience for 12 ELCA/NGLS pastors in the winter/spring of 2006 at Fortune Lake Camp. The Cyrene Project focused on core leadership skills and included presentations by a family-practice physician, a psychologist, a psychiatrist, and a Roman Catholic spiritual director. This intensive training experience involved self-awareness exercises, role playing, small group discussions, conflict resolution strategies, and personal psychological evaluations. The model was based on a U.S. Secret Service, high-intensity training format. Special thanks to Kelly Mahar, psychiatrist with Pathways Community Mental Health, who offered an insightful presentation on Working with Difficult People. This project was coordinated in the context of Project Hope, a counseling and mental health service carried out by CTI in cooperation with the Northern Great Lakes Synod of the ELCA.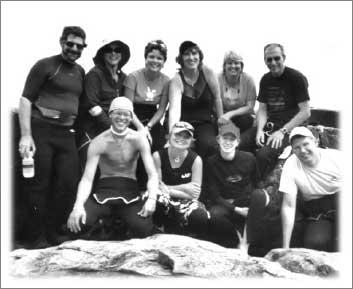 The Janus Project, first launched in 2000, continued with its training for hospice workers and physicians. Our March workshop was Keeping Balance: Kidney Health and Disease Prevention. Our summer seminar theme was Family Journey: Dynamics and Interventions with Families of Terminally Ill Patients. All CTI-sponsored training experiences are set in a framework of physical activities (kayaking/hiking). Along with formal presentations, participants interact on an informal, first-name basis, sharing common tasks, such as cooking, preparing equipment, maintenance of boats, etc.
Special thanks to Mike Grossman and Larry Skendzel, medical directors of two Marquette County hospices, for their innovative leadership working with the Institute to provide training for hospice workers and medical providers here in Northern Michigan. During our August event, CTI friend and social worker Ray Hasenauer, joined us with a memorable presentation on family systems. Tony Holzgang, Director of Behavioral Health at Marquette General Hospital brought us perspectives on the vital role of family story and myth.
A special benefit concert to honor hospice workers was held during our 2006 Janus Summer Seminar at the Thunder Bay Inn in August. It included special guest musicians Kevin Muiderman and Big Bay's own Lost Creek Band. A great night!
A signature of The Cedar Tree Institute's educational projects and training continues to be our Spirit of Place kayak trips held each summer on Lake Superior. These events address the intersection of spirituality and environment. In August our topic was the writings of novelist Jim Harrison. John Rosenberg, CTI research fellow, historian, and field theologian, traveled to be with us, once again, from Vancouver, Washington. He led a creative, lively discussion of Harrison's insights into the earthy-complexity of human experience.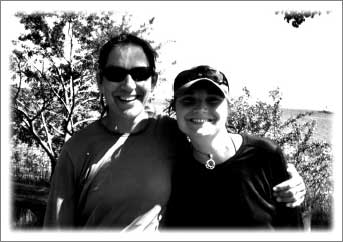 Ten participants from four faith traditions joined us from across North America. A total of eighty-three persons have joined us for these Northern Michigan kayak trips, first launched with our good friend Peter Hutter in 1996. Three October Columbia River retreats have also been sponsored by the Institute since 2000. Hats off to this summer's kayak guides Casey Andrews, Nancy Uschold, Stewart Joseph, and Samantha Magnuson, along with Spirit of Place presenters Karl Bohnak and Jeff Vanderzande.
Recognition for the Institute's work have come this year from a number of unexpected sources. Lake Superior's Binational Forum, SOLEC, and the Acton Institute all commended our environmental work with the Earth Keeper Initiative. In September, World Magazine targeted the Institute's work with the Manoomin Project naming CTI as one of the 15 best nonprofit, faith-based organizations doing some of the "hardest work in America."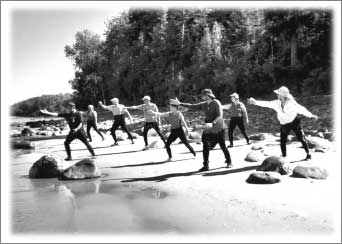 Welcome Paul Olson, who this year serves as a field-site Intern with CTI as part of Michigan State University's Social Work (MSW) Graduate Program. Paul assisted with several Institute events this fall and is providing leadership for the Unsung Heroes project, a new collaborative effort sparked by John and Mary Argeoplolous (see page 4). Paul's background includes work as a hospice chaplain. He is currently employed by Great Lakes Youth Development Program.
There are a number of folks who work behind the scenes to help carry out the nuts and bolts of CTI operations. We have fifty donors from around the country, four of who have been supporting us faithfully since our origin in 1995. Our appreciation to Steve Rose and Greg Peterson who serve us in the roles of bookkeeper and media specialist. Also to Steve Durocher for his photography, and colleague Carl Lindquist who continues to be a creative, steady partner for our ongoing environmental work.
Bridges
by Arvid Sponberg, CTI Research Fellow
2007 marks the 50th anniversary of the opening of the Mackinac Straits bridge. Probably only those older than, say, 55 can remember what crossing the Straits was like before the bridge. I remember long waits in hot, humid weather for the ferries that carried thousands of travelers between St. Ignace and Mackinaw City. The lines could extend for miles and hours. After snaking and snailing through town, you finally arrived at the huge dock, as wide as a big city freeway, where you waited some more, watching the huge boats unload and load their human and auto cargoes.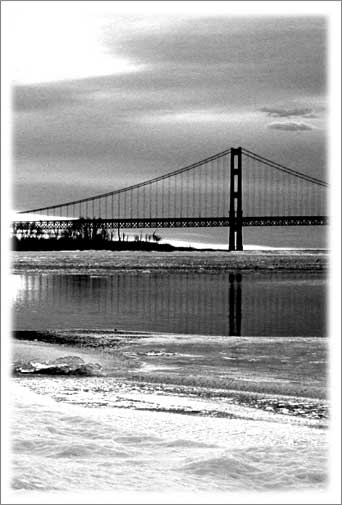 Clouds of seagulls whirled and dived on the remains of sandwiches, brats, and ice cream cones gulped and licked by hundreds of waiting, weary travelers. (This was before litter laws.) As the kids messed and fussed, moms' and dads' tempers slowly decomposed in the sticky Michigan heat. Only the clean, cool smell of the lake soothed your nerves with the anticipation of a breezy crossing. Ferries gave you time to unwind and let the tensions of a long drive from Detroit or Lansing wash over the sides and fall behind in the churning wake of the ferry.
Before 1923, motorists had to hitch a ride on ferries designed to carry railroad cars. The service lasted for 34 years and included nine different ships, although only five operated during the last years: Straits of Mackinaw, City of Cheboygan, City of Petoskey, City of Munising, and the Vacationland, which could hold 150 cars. In the first ten months of 1957, they carried over a million cars. It all ended on November 1, 1957.
Since then, the bridge has become a fact of life and many people cross it, I'm sure, without giving it a second thought. After all, on a map it's just another piece of the road. Crossing the Straits on a ferry used to take an hour. Now it takes ten minutes. Big whoop!
Whether by ferry or bridge, crossing the Straits brings out the kid in me and I still can't approach it without excitement rising. Coming from Mt. Pleasant, as we did in August with friends from the Netherlands, we looked eagerly for the first glimpse of the towers about 15 miles south of Mackinaw City. "There they are," I shouted so our Dutch friends would be sure to see them. And, indeed, there they were as they have been for a half-century now.
Crossing the bridge at the decorous rate of 45 miles an hour, we heard again the humming tires on the grating that allows the bridge to "breathe." It expands in the summer and contracts in the winter. Winter gales must be allowed to pass through, but it still moves. Arcing between the towers a couple of hundred feet above the Straits' cold waves, I feel kind of weightless and some lines from Wordsworth come to mind: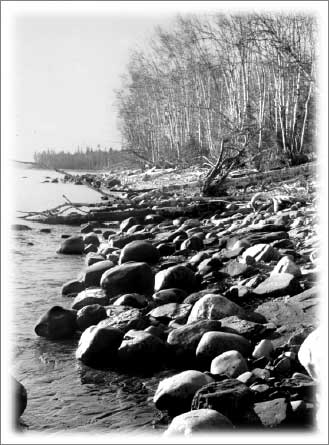 And I have felt A presence that disturbs me with the joy Of elevated thoughts; a sense sublime Of something far more deeply interfused, Whose dwelling is the light of setting suns And the round ocean, and the living air, And the blue sky, and in the mind of man: A motion and a spirit, that impels All thinking things, all objects of all thought, And rolls through all things. (Lines, 93-102)
Well, that overdoes it, eh? I quickly come to earth as we slow into the lines at the toll gate on the St. Ignace side. Yet, I can't help thinking Wordsworth would nod in recognition and approve of my stealing his words. Lines is a poem about revisiting a place that you knew when younger and thinking about how you've changed, maybe even matured, between the visits. The poem is Wordsworth's bridge between two parts of his life, and a bridge between himself and his sister, Dorothy, who is also a figure in the poem making her first visit to the scene.
Other bridges, real and metaphorical, have been in the news this year. About the same time that we were crossing the Straits, bridges in Lebanon were being blown up, accompanied by mourning and bitterness. "Bridges to nowhere" became a sarcastic caption for our ineffectual, earmarking congress, though now an election may signal the making of new bridges connecting the political peninsulas of our national landscape. In every season of life, we are called to steer ferries or build bridges because somewhere, someway we are always coming to the straits.
Arvid "Gus" Sponberg spent his boyhood in the Upper Peninsula. He and his family share a summer home at Middle Island Point in Marquette. He is currently a faculty member in the English department at Valpariso University.
---
OUR THANKS to the folks who quietly continue to help underwrite, financially, the pro bono work of the Cedar Tree Institute in Northern Michigan.
*1/3 of our services are provided at no cost.