There are those who walk on the edge of worlds. Such persons are rarely public figures or political decision-makers. Most often they have few material possessions, little desire for fame or power. They live on a different radar screen than most of us. They march to different drummers. They are messengers.
In August, I was called to a hospital room where a community artist and seamstress had been told, days before, that she was dying from a virulent form of cancer. She told me of a dream in which an eagle came to take her away, then gracefully passed over, indicating it was not yet time. Though not a member of any formal faith community, this hard-living, generous 57-year-old had a deep, insightful sense of the spiritual world. She asked me, unexpectedly, if I would assist in leading her memorial service. I, of course, agreed.
Specific details of her life are probably best reserved to a different time for telling by her family and friends. But it's worth noting that on a trip returning home from California to the Upper Peninsula, not that many years ago, she asked her driver to stop and ran across a meadow in Wyoming chasing a buffalo. Fiercely independent she once threw a bedpan against a hospital wall. During her last days in hospice as she struggled with pain, I leaned over her bed and began saying the Lord's Prayer. She beckoned me closer and whispered, " Jon, that one doesn't work for me." In turn, I tried the 139th Psalm, "Oh Lord, with you darkness is as the light." She lay back gently and closed her eyes with a look of satisfaction.
At the funeral in October a group of folks from all walks of life, including dozens of Harley bikers, gathered together in the warmth of a park pavilion on the shores of Lake Superior. A circle of chairs surrounded her casket. Four candles were set in four directions. Cedar was laid on a simple altar. With the echo of drums, against a backdrop vestments and robes, we closed with this benediction.
"Sister Mary, the eagle of which you dreamed would one day return has come. And now you climb upon its great wings. We bless you on your way. You knew better than most, the emptiness of the rich and powerful of this world. You taught us about the power of animals, about living graciously on the Earth, sometimes without heat or plumbing. The shadow of a cross, our songs, and the sound of drums join together as a single prayer. An eagle whistle from the high plains of the Dakotas calls to you. A river carries you home."
The casket was carried to the hearse. As the funeral procession drove off, twenty-four Harley bikers revved up their cycle engines, escorting her body into a setting afternoon sun.
-JWM
Journal Notes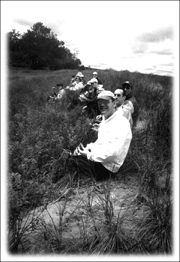 Special thanks to Dr. Mike Grossman and Dr. Larry Skendzel for their continuing partnership and innovative leadership working with the Institute to provide training for hospice workers and medical providers here in northern Michigan.
In early March 2005 Mike assisted in coordinating a Janus Project seminar on mind/body medicine. The project included a ten-mile trek through the melting snow along the shores of Lake Superior. In August, Larry joined Mike and the Institute staff in designing and coordinating a three-day kayak trip and training event in Big Bay. Our theme for the retreat on end-of-life medical care was "Let the Heart Speak." Richard Shulman, nationally known composer and musician, joined us as a guest presenter. Diana Magnuson spoke and led a workshop on the power of art and in the world of healing. 21 nurses, physicians and social workers participated in these events.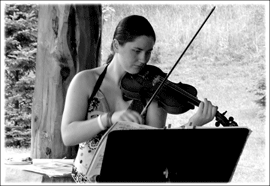 Lorrie Hayes and the Flat Broke Blues Band presented a special benefit concert for the Cedar Tree Institute in early November. In the light of a hundred votive candles in Messiah Lutheran Church, the sounds of blues echoed through a darkened sanctuary. Jenna Geueke, NMU student, joined the band that evening with a special violin improvisation.
CTI's appreciation to Lee Goodwin, Lutheran pastor and spiritual director, who served as presenter for the 2005 Spirit of Place kayak trip on Lake Superior. Lee help lead a group of 12 participants from all over North America into a study of the life and writings of St. Francis of Assisi. And thanks to John Rosenberg, CTI research fellow, historian and field theologian, who once again assisted in coordinating our third October Spirit of Place event, during the fall salmon run, in Skamokawa, Washington.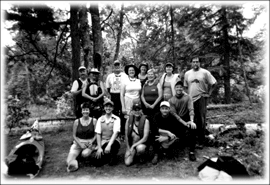 The CTI carries on its work with the support of gifts from individuals representing all walks of life. One-third of our programs and projects are offered to the community at no charge. We give thanks for the special efforts and volunteer work from kayak support team member and chef Ray Hasenauer, public relations specialist Greg Peterson, bookkeeper Steve Rose, good friends Ed and Diana Rodgers from California, Keweenaw Bay Indian Community members Don Chosa and Susan LaFernier (tribal chair), and Mike and Heather Engberg, who traveled once again from Oregon to work with Tom Reed on the Manoomin Project.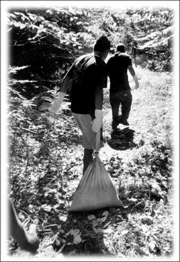 September 2005 marked the tenth anniversary of the work and programs of the Cedar Tree Institute. We welcome June Schaefer and Larry Ziomkowski as new members on our CTI Advisory Council. June, born and raised in the Keweenaw Peninsula, currently serves as superintendent for the Marquette-Alger Regional Educational Service Agency, and recently returned from an educational forum on Arab-Jewish relationships in Bethlehem. Larry is a social worker who is Executive Director for the Catholic Social Services (Charities) of Northern Michigan. He heads up the Critical Incident Stress Management Team for Marquette County.
Thank to support from the Siebert Foundation and the Northern Great Lakes Synod of ELCA, a series of mind/body medicine workshops were facilitated as part of the Malachi Project. Fifty-three clergy from Wisconsin and northern Michigan participated in a training program from January to April facilitated by the CTI and Dr. Mike Grossman. Insights and information were shared from the Harvard Medical School Institute of Mind/Body Medicine. Special attention focused on visualization practices, breathing techniques, prayer, diet and exercise.
In Memoriam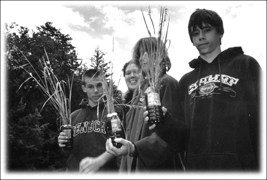 Mary Vinette 1948-2005
Mary Vinette was a local artist and owner of Merry Mary's Leather Art Studio in Marquette. Mary led an extraordinary life of spiritual exploration, adventuresome relationships and generosity. The CTI Executive Director officiated at Mary's memorial service on October 16, 2005 at the Presque Isle Pavilion.
Keeping in Balance
with Mother Earth
By Arvid Sponberg, CTI Research Fellow
Our relationship with the Earth is complicated. We don't personify our planet as Mother Earth for light and transient reasons. Everything we need to live comes from the Earth-crops for food, wood for homes, energy for fuels, ores for metals. Without metals modern civilization is impossible-and the history of civilization can be well understood by tracing the history of metals.
However, the Earth not only provides all that sustains us, it also destroys us. During the last twelve months, we witnessed three catastrophes of mythical magnitude. An Earthquake and tsunami killed 200,000 people around the rim of the Indian Ocean. Two hurricanes destroyed thousands of homes along the Gulf coast and nearly erased New Orleans. Another Earthquake in Pakistan destroyed thousands more villages and people. Terrifying, shocking, awesome, but not unexpected.
Plain enough, so far, but if Earth were only "life-giver and life-taker," our relationship could not be described as complicated. Digging reveals deeper layers of the relationship.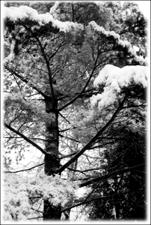 China is a good place for such digging. In June of this year, I traveled to China for the first time. Making her second trip, my wife and I traveled for two weeks with a group led by Dr. Zhimin Lin, professor of political science at Valparaiso University.
Even if I may not know the meaning of it all, to a Chinese person I can describe what I saw and heard. As a Midwestern small-town boy I am used to seeing my cousin harvest corn with a $300,000 John Deere combine. It is startling to see people working in a rice field, backs curved toward the sky, hands under water for hours gently digging around and cleaning the rice plants, legs below the knees swathed in mud, conical straw hats shadowing faces from blistering sun, and not a machine of any kind in sight. Cultivating rice brings humans into the most intimate relationship with the eternal Earth in a slow dance of agri-destiny-and tourists passing by can only wonder at the labor exacted by such intimacy.
Nor does the complexity end in the rice fields. In the heart of northern China stands the city of Xi'an (meaning "western peace"), the eastern terminus of the ancient Silk Road that connected China to the Mediterranean. Under various names, a city has existed here for over 3,000 years. A few miles east of Xi'an rises the mausoleum of the emperor Qin Shi Huang (259-209 bce) a human regarded by his co-Earthlings as a semi divine being. The complex of tombs extends over twenty square miles of the Earth. And buried beneath the surface, arrayed in patterns that conform to the deepest mysteries of Chinese cosmology and military strategy, stand thousands and thousands of terra cotta warriors, a subterranean army prepared to defend their emperor.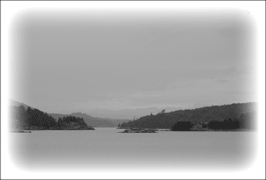 About the digging, the ancient historian Sima Qian (c. 145-c. 85 bce) wrote: "The labourers dug through three subterranean streams, which they sealed off with bronze to construct the burial chamber. They built models of palaces, pavilions, and offices and filled the tomb with fine vessels, precious stones, and rarities. Artisans were ordered to install mechanically triggered crossbows set to shoot any intruder. With quicksilver the various waterways of the empire, the Yangtze and Yellow Rivers, and even the great ocean itself were created and made to flow and circulate mechanically.
With shining pearls the heavenly constellations were depicted above, and with figures of birds in gold and silver and of pine trees carved of jade the Earth was laid out below. Lamps were fueled with whale oil so that they might burn for the longest possible time."
The image of lamps burning underground-and "for the longest possible time"-may lead us to a small flicker or two of clarity about our complicated and confused relationship with the Earth. Whether we use the resources of Earth to satisfy our needs in this life or to carry us towards the life to come, we cannot imagine life of any kind apart from the Earth. We are the Earth's and whatever we do to it, we do to ourselves.
What stands or moves upon and lies beneath the surface has attracted humans to the Upper Peninsula for thousands of years. Like people in China, and more than many others in this country, we live deeply connected to Mother Earth. Our decisions about our relationship with her must respect the delicate balance that intimate relationships require.
Arvid "Gus" Sponberg spent his boyhood in the Upper Peninsula. He and his family share a summer home at Middle Island Point in Marquette. He is currently a faculty member in the English department at Valpariso University.
"To dig is human, to find ore divine." -old U.P. mining motto overheard at the Old Vierling
The Earth Keeper Initiative
In April 2005, an effort rooted in a spiritual vision of environmental healing and renewal took place in 50 villages and towns across 15 U.P. counties. One hundred twenty eight congregations participated in the historic clean sweep of nearly 46 tons of lethal Household Hazardous Waste (HHW).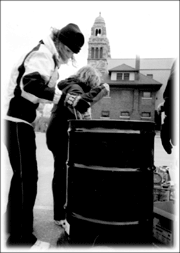 Items collected included pesticides, discarded paint, vehicle batteries and mercury. These materials were collected at 26 sites and transported during a 24-hour period by seven trucks and 13 drivers to landfill disposal sites in Delta and Marquette counties. More HHW was collected at the Delta County site from this faith-based initiative than had been previously collected for the last seven years.
Many hazardous wastes have what chemists call "half lives" of 500 years or more. They are primary cancer-inducing agents that threaten to contaminate our fish, plants and wildlife for generations to come. The impact to human health is enormous.
The Cedar Tree Institute coordinated this effort with the Central Lake Superior Watershed Partnership and support from the Keweenaw Bay Indian Community tribe. The Michigan Department of Agriculture joined with the EPA in providing some initial core funding. An Earth Keeper team of 18 representatives from nine faith traditions designed and carried out the project.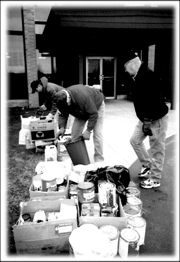 This event was covered extensively by print and television media. Reports of the collaboration were noted by national publications including the Christian Century, the Episcopal Today and Lake Superior Magazine. The clean sweep was a featured story for the EPA's Great Lakes Significant Activities report for April 2005. The effort received a special letter of commendation from the governor of Michigan.
The Earth Keeper Covenant is a spiritually driven commitment, signed by nine major spiritual leaders in northern Michigan, that addresses environmental challenges.
For more information on the 2006 Earth Keeper clean sweep and CTI's environmental programs, call the Cedar Tree Institute (906)228-5494, Larry Ziomkowski (906)227-9116 or e-mail Larry at lziomkowski@dioceseofmarquette.org
---
OUR THANKS to the folks who quietly continue to help underwrite, financially, the pro bono work of the Cedar Tree Institute in Northern Michigan.
*1/3 of our services are provided at no cost.