The Other Upper Peninsula
A View From The Wardrobe
from Marquette Monthly December, 2017
By Jon Magnuson
This past summer, close to a hundred of us, local residents, tourists, and history buffs, crowded into Big Bay's historic Thunder Bay Inn for an entertaining evening, viewing projected old photos of camps, grand lodges, and cabins in the Upper Peninsula.
Hosted by the Yellow Dog Watershed Preserve as a fund-raiser to support work protecting the natural resources of Marquette County, it turned out to be a delightful night, framed with story telling by master historian Jack Deo. Plenty of applause and laughter filled the Inn's Great Room, echoing out over miles of forest canopy covering the nearby reclusive Huron Mountain Club.
The ghosts of Henry Ford, Cyrus McCormick, Louis Kaufman, and Thomas Edison were smiling. Those colorful personalities, once frequent visitors to the Upper Peninsula, were honored with hundred-year-old photos of their elegant summer residences. Oohs and ahs from the audience punctuated the presentation with applause and an occasional "My grandfather, helped build that staircase!"
That evening, my wife and I brought with us two guests, Bob and Louise, who were visiting from New Mexico. They are close friends with whom we often exchange reflections of straight-up candor, part of an equation that makes such friendships so special.
On our trip back to town, driving down a dark, winding County Road #550, I asked matter-of-factly, "Any observations?"
Bob replied, "A delightful evening. Absolutely. But I was bothered by one thing."
"What was that?" I asked.
"Those photos of successful hunts, the ones with carcasses of wolves and deer hanging from trees, did you notice the way the finely dressed business barons were posing in their finery? It looked like Michigan's Upper Peninsula, you could say, was once a playground for the rich and famous."
"So you're asking about the rest of the folks?" I responded. "The ones who were scratching out a living up here."
"Exactly," both Louise and Bob replied in unison.
I've always been thankful that I spent my youth growing up in the Upper Peninsula. But I was reminded that night that our local history has always been framed for me by familiar names on street signs, buildings, roads, and landmarks: Father Marquette, Bishop Baraga, Douglass Houghton and the "Captains of Industry and Finance" like John Munro Longyear, and Peter White.
I became aware, in ways I hadn't thought of much before, that the drivers of our Upper Peninsula's economics —like Cleveland Cliffs, Mead Paper and, more recently, Rio Tinto, Aquila Resources, and Canada's Lundin Mining Corporation have left defining signatures on how most of us understand who we are and what it means to live in this corner of the Great Lakes Basin.
So, for a playful moment or two, let's pause. It's a time for our long-awaited sacred celebrations: Hanukkah, Christmas, and the Winter Solstice, occasions for family gatherings, concerts, feasting, and story telling. An opportunity, if ever there is to be one, for digging a little deeper, to gently question the way we see ourselves in the larger scheme of things. Are most of us simply minor players in histories shaped by narratives composed by chambers of commerce in collaboration with brokers of economic power and politicians? Or might we spin the prism, choose to see things in another way?
---
Let's take, for instance, a glimpse from the Wardrobe's Door. This peculiar image is from "The Lion, the Witch, and the Wardrobe," the second in a series of fantasy stories written by C.S. Lewis called "The Chronicles of Narnia." Published in the 1940s, these captivating tales of adventure continue to be regarded as classics of children's literature passed down from the 20th Century.
The Wardrobe Door serves, for Lewis, as an entrance into Narnia, a spiritual world under siege by the White Witch. Protagonists of the Narnia Chronicles are all children from the real world, magically transported into Narnia. There, they are called upon by the friendly, elusive lion Aslan to help restore the throne to its rightful rule.
C.S. Lewis borrowed from Greek and Roman mythology as well as Irish, British, and Christian themes to shape his series of spellbinding stories. For Lewis, Narnia is a world where animals are wiser than humans. Where cold, calculating perfection is seen as life diminishing. Where sacrifice and courage, kindness, playfulness and modesty merge together as the highest values.
Peering out from the Wardrobe Door into what most of us call "the real world," things look different. From Narnia's viewpoint these December days, the history of our Michigan's Upper Peninsula gently, playfully, invites another, deeper look.
THE LEGACY OF TIMBER AND MINING
Official history tells us that the lumber and mining industries, more than any others, shaped economic and social development of Upper Peninsula life over the past hundred and fifty years. There's solid consensus that foundations for all our communities rest on this visionary, successful, and monumental legacy.
A view from the Wardrobe Door hints we explore another level of consciousness under that popular version of our history. Too often, the lives of thousands of anonymous miners and loggers, who strove to make a living, based on stock market calculations contrived in board rooms far from here, fade when set against more well-known and familiar personalities of those long-ago business empires.
Organized labor and its historic battle to protect workers, insure safety regulations and provide health benefits for those who risked their lives in mines and forests remains largely an untold story. Carpenters, ironworkers, teamsters, loggers, and their families, deserve to be equally remembered, their sacrifices honored.
A view from Narnia suggests, as Reinhold Niebuhr thundered in theological writings following his formative experience organizing autoworkers in Detroit during the 1930's, human nature always tilts toward self-interest. Greed is natural, he proclaimed, but it's dangerous. Markets need to be balanced with negotiations and contracts. A look at the history of labor unions in the Upper Peninsula reminds us that today, as then, we are faced with temptations. Because of our remote landscape, we can too easily become another one of our nation's environmental zones for unregulated economic development.
From Narnia's perspective, it's appropriate to intentionally honor our region's organized labor movements. To also pay special tribute to those volunteers who support our region's environmental activists: Friends of the Land of the Keweenaw, Back Forty, the U.P. Environmental Coalition, and the Yellow Dog Watershed Preserve.
To them, a joyous, grateful bow as they continue their work surviving on charitable donations and bare-boned budgets, challenging gas pipelines, mine expansions and logging practices that threaten to diminish regional biodiversity and our children's health.
INVISIBLE PEOPLES: THE ANISHINAABE
The five Federally recognized American Indian tribes in the Upper Peninsula are currently defined, for the vast majority of us, by what appears as highly successful enterprises of casinos and resort hotels. A view from the Wardrobe Door suggests a more complex, hidden, and dynamic presence of these communities in our midst.
Contributing to regional tensions and fostering cross-cultural conflicts is the lack in our public school curriculum of sufficient information about the American Indian treaties that impact the Michigan, Wisconsin, and Minnesota. Treaty rights established in 1836, 1842 and 1855 were not gifts to Native communities, but legal exchanges involving commitments of educational and health benefits in exchange for land and resources. One often forgotten component of these treaties, is the Federal government's obligation to protect tribes' access to traditional fishing and hunting grounds.
That also includes the thorny issues around access to ceded Treaty lands.
A view from the Wardrobe suggests need for a reviewed understanding of the history of our tribal neighbors, raising awareness, deepening respect for their ongoing efforts to protect and manage tribal members' treaty-protected natural resources.
In Michigan, Wisconsin, and Minnesota, heated public debate continues regarding legislation to permit hunting wolves. Among Native American teachings, the gray wolf is revered as a "Brother" in traditional Anishinaabe creation stories.
Early in 2015, Michigan's United Tribes passed a resolution to protect the gray wolf from being removed from the Endangered Species list. Consideration of tribal opposition to initiatives removing hunting restrictions on hunting wolves, for the most part, continues to go unheeded.
State and Federal policies are currently eroding protection of habitat and wildlife species. Narnia's fascinating idea that wild creatures carry a wisdom that could help lead us back to our true spiritual and ecological home, haunts those who regard deer, bear and wolves as only predators or potential hunting trophies.
INSIDE U.P. RELIGION AND SPIRITUAL LIFE
Religious life is the Upper Peninsula may appear to casual observers as stable and dully predictable. A deeper look reveals it to be dynamic, fluid, resilient, yet fragile. Over recent decades, the two largest Upper Peninsula Christian denominations (Roman Catholic and Lutheran) have seen steady declines in membership and worship attendance. Loss of population in Northern Michigan, combined with social isolation, continues to weaken what once provided face-to-face social and moral stability.
A view from the Wardrobe Door invites a couple observations.
First, the quiet work of our Peninsula's faith communities –honoring life passages with funerals, confirmations, baptisms, and marriages – continues to bring together people from across class, educational, and economic lines. Spiritual gatherings serve as key points of connection and support for individuals and families struggling in our hard, economically depressed environments.
If they're doing their job, healthy faith communities also seek to assist persons claim a deep sense of belonging in the world. This kind of spiritual work involves more courage, insight, and humility than what might appear at first glance.
A few years ago, I listened to a visiting Roman Catholic Archbishop respond to a question about convictions of sexual misconduct by abusive priests. "I've learned to remind any person," he said, "interested in joining the Catholic Church, that they will be joining a wounded community." At an ecumenical gathering in a Lutheran church, he confirmed this hard, but often unspoken truth for anyone who chooses to be part of any formal religious institution. C.S. Lewis would have been pleased.
So what future history will be written for generations that follow us in the Upper Peninsula? The world of Narnia teasingly suggests that, at the very heart of everything, a spiritual drama is going on. That real history unfolds in small, often unnoticed moments. That, as with appearances of Aslan, glimpses of such a realm of reality will always remain elusive, fleeting.
A social worker friend of mine, who keeps a home here in the Upper Peninsula, recently sent me a text message. She currently works in Las Vegas for a prestigious medical clinic. On her way to work one morning, she texted me that she saw a woman on the street folding a blanket upon which she obviously, had been sleeping that night. It was not far from the site of that city's recent horrifying mass murder. For a split second, observing that homeless woman folding her blanket with such intentional, elegant care in the midst of what seemed that day only a world of violence and despair, transformed my friend's work day into one of hope.
The social worker, during her many years in the Upper Peninsula, learned to spot deer on the sides of roads during many late night winter drives home from work. She also learned a greater skill working with marginalized youth and the elderly in this harsh environment: How to identify, in everyday events, the smallest signs of promise, of grace. On that peculiar morning, on her way to work in Las Vegas, she looked through the Wardrobe Door.
And so it is. A wolf cub watches us, eyes gleaming from the edge of a forest near Nisula; a young cedar tree struggles to sustain its new life on a stream bank of the Yellow Dog; a brown trout rests quietly under a frozen pool of the Two Hearted River; a child is lifted up above a baptismal font in a rural church.
Here in our iron-hard, beautiful, forgotten Peninsula, they all await the history we will choose to live for them.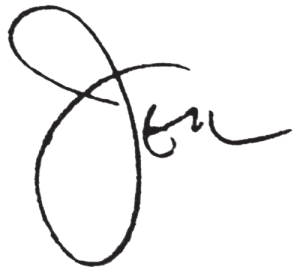 Jon Magnuson
Jon Magnuson is Director of The Cedar Tree Institute, a nonprofit organization in Northern Michigan that provides services and initiates projects in the areas of mental health, religion, and the environment.
Help us by sharing this content!