First developed by Chinese monks in the 8th Century, Qi Gong and Tai Chi practices are known for their attention to slow, graceful, movements that improve balance, regulate blood pressure, and strengthen the immune system. (Ref: Tai Chi and Qi Gong at WebMD.com)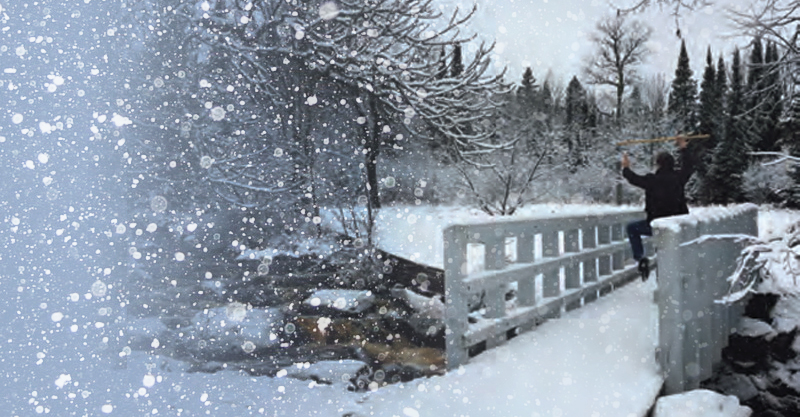 TAI CHI
A MIND BODY CONNECTION FOR HEALTH AND WELLNESS
Jon and Diana Magnuson continue as the Institute's instructors. Rick Pietila, disciple of Chen Zhonghua, serves as a long-distance (China, Austria) consultant and mentor. Numerous guest presenters over past years have included Jeannie Wagner, physical therapist; physicians Hillary Metcalf, Fred Maynard, and Dick Bohjanen; Sharon Bohjanen, psychologist; Larry Wall, mental health counselor; Phil Watts, NMU sports medicine instructor, and Roberta Noss, reflexologist.
Weekly classes are held from 5:30 P.M. – 6:30 P.M. on Wednesdays at the Marquette Hope Connection Center, 927 W Fair Ave. in Marquette. Monthly Workshops (Saturdays 9:30 – Noon) are held as scheduled. Fee for weekly classes is $10. The monthly workshop $27. (With a discounted rate for 4 classes and monthly workshop ($55), there is a savings of $12)
Annual Tai Chi Retreat at Fortune Lake
FEBRUARY 10-11, 2017
Learn more about our 2017 Tai Chi retreat and register online.
Tai Chi and Qi Gong make use of "open hand" forms. CTI classes also work with the Tai Chi Ball, the Yang Staff, the Jiin (Narrow Blade Sword Form), and the Yang Saber.
There are many different teaching styles when it comes to passing along this Chinese mind/body practice. The Cedar Tree Institute seeks to integrate practical dimensions for living a healthy life with a focus on self-awareness, body structure, calmness of mind and emotions. Peter Yang of Harvard Medical School has commented that unlike most physical rehabilitation programs, Tai Chi does not focus on strengthening a single muscular group, but is a "multi-dimensional," approach involving the whole body, including the mind and emotions.
We offer different paths in our teaching method but always begin our formal class session with a series of simplified, warming up Qi Gong exercises. We will include partner work to deepen our self-awareness. Following a 5-10 minute tea break, we offer options to work on individual movements, basic structure and in 2017 the Yang 10 or the 108 Traditional Yang Form.
No prior experience is needed. There are no requirements for special uniforms. Our students are encouraged to wear loose fitting and comfortable clothing. There's a place for you with us wherever you may be in your journey into the fascinating world of Tai Chi.
The Cedar Tree Institute continues to offer weekly mind/body Tai Chi classes and monthly workshops in 2017 from January – May and September – December.
Visit our Tai Chi page any time.