"Mukwa" is its Anishinaabe name, buried deep in indigenous language of the Great Lakes Basin. "Black bear" is the English translation. I've come to call my two recent encounters with these elusive creatures of the forest "The Visitations."
The first occurred at a Cedar Tree Institute training for hospice workers. It was mid-September, an early evening, high on a ridge overlooking a cabin on the shores of Lake Superior. A bear cub crossed a logging road. A friend spotted it while on his way to join us for dinner.
The second took place in November, in the middle of the night. A shadowy figure, pawing the earth, approached our window at a monastery north of Santa Fe. It was another Institute event, this one a retreat on the writings of Thomas Merton. The next morning the abbot assured us, "Yes," he said with a smile. "They are frequent guests here in our mountains."
In 1930, in his funeral eulogy for Richard Wilhelm, a protestant missionary to China, Carl Jung coined the term "synchronicity." He echoed Wilhelm's conviction that Eastern religions remind us we live in more than "a cause and effect" universe. When our experience of outer reality intersects with our perception of inner realities, we discover we're grounded in more than a conventional sense of time and place.
Marie Van Franz, one of Jung's students and a psychoanalyst in her own right, went on to say such occurrences rest at the very heart of religious experience. They may appear as irrational but the oldest wisdom traditions of the world suggest something different. Coincidences or "synchronicities" offer to change the way we understand the mystery of our lives, and can provide important clues on how to best navigate the ups and downs of our personal lives.
So what about bears? (Apart from the fact there are estimated to be 700 of them wandering the cedar swamps of Michigan's Upper Peninsula.) For traditional Ojibway peoples, the bear is an animal of care-giving, a symbol of strength, defending the weak, providing spiritual nurture to the young and unborn. As the Institute moves ahead, using what resources we have to integrate spiritual life with environmental restoration projects, we'll choose to ponder such visitations.
And for you, our readers? A disciplined inner life, if we allow it, invites us to be open for the unexpected, to intentionally look for signs that may sustain, but also sometimes radically alter our expectations and plans.
If we're not open to such possibilities, we will only perceive what we expect, only see what we believe. The good news is that, despite our self-protective natures and fear of loss, the worlds of perception we all mindlessly keep building secretly beg to be shattered. The liberating promise is that they inevitably will be.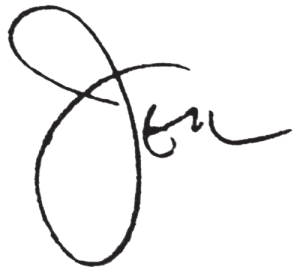 Winter 2016 Ecotone Newsletter
CONTENTS
---
JOURNAL NOTES
Foundations & Operations
We move into 2016, especially grateful for financial contributions from folks from many different walks of life across North America who keep "the small fire burning" here on the edge of Lake Superior. This is our 20th year. Our diverse projects all carry a life of their own. Anne Rydholm, our volunteer bookkeeper likes to say, "CTI exists in time, not in space."
We've persevered against heavy odds as a nonprofit. Thanks to wise counsel of CTI Board members Steve Mattson and Jim Elder, we've kept small and flexible. We're unabashedly collaborative, engaging in projects connecting us with a wide range of federal, environmental, tribal, medical, and faith-based organizations.
And we're fierce about our operational principles. We own no property, have no full time employees, and one third of our projects and services are provided on a pro-bono (no fee) basis. We point to partnerships, not ourselves. One important secret that's kept us out of any debt: We won't move forward with any idea, no matter how inviting, without resources to support the work.
Benchmarks
In November, The Cedar Tree Institute facilitated an evening discussion on "Everyday Grace" at the Peter White Public Library, part of a series built around Paul Loeb's prophetic book "The Impossible Will Take a Little Longer."
"The Promise: Prayers, Seeds, and Pollinators" was published in the December 2015 issue of the Marquette Monthly Magazine tracing the history of the Zaagkii Project (wingsandseeds.org)
Two CTI sponsored workshops on "Dreams: God's Forgotten Language" took place in December at St. Paul's Episcopal Church in Marquette and Zion Lutheran Church in St. Ignace, exploring the integration of dreams as part of pastoral care and deepening personal spiritual disciplines.
CTI's Director assisted Pastor David Van Kley at the funeral of Ryan Todd Burr on December 10th at Messiah Lutheran Church. He will also be leading a six week course for that congregation "Forgiveness: Spirituality and the Dynamics of Healing" during Lent (February and March, 2016).
---
WISDOM & MIND/BODY MEDICINE
New understandings of connections between mind and body are changing the way medicine is practiced. Palliative care and hospice staff increasingly offer patients alternatives to exclusive pharmaceutical interventions. There is a long overdue skepticism emerging about "miracle" drugs as the general health of our American public deteriorates, perhaps not in terms of length, but, dramatically, in quality of life.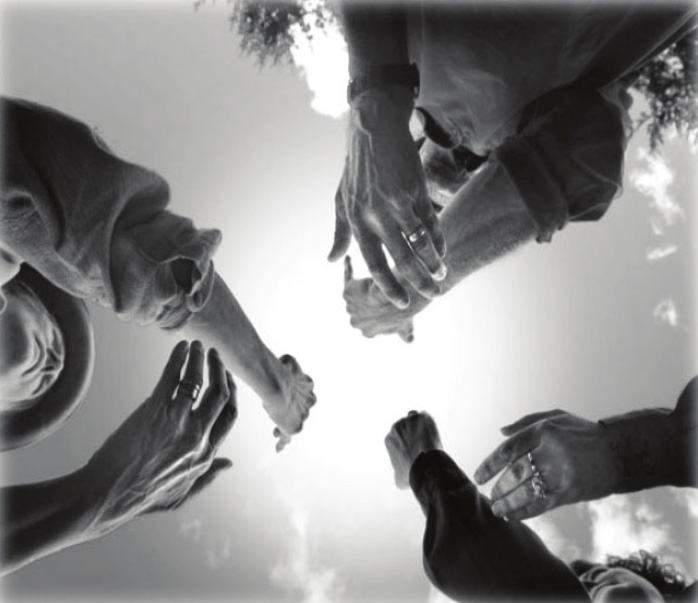 Over the last ten years, the Institute has sought to address this challenge with integrating a spring and fall series called "The Iron Butterfly." Guest facilitators have included: Kelly Mahar, MD ("How the Brain Impacts Human Health"); Mike Grossman, MD ("Mind/Body Medicine: What is it?"); Lisa Long, MD. and Lee Ossenheimer ("Human Energy and Emotional Flow"); Breanne Carlson, Olympic weight lifter (Secrets for Training the Human Body); Tina Hall, Shari Bojanen and Hilary Gagnon, MD ("Food as Medicine"); and Eva Selub, MD ("Nature, Spirituality, and the Human Brain")
At the center of the Institute's initiative in this area are Tai Chi weekly classes that specifically address the challenge of how to incorporate an awareness of the body (balance, breathing, movement, flexibility) into every day lifestyle practices. Tai Chi is a mind/body practice developed by Buddhist monks in the 8th century. It consists of focused gentle movements based on the observing animals and nature.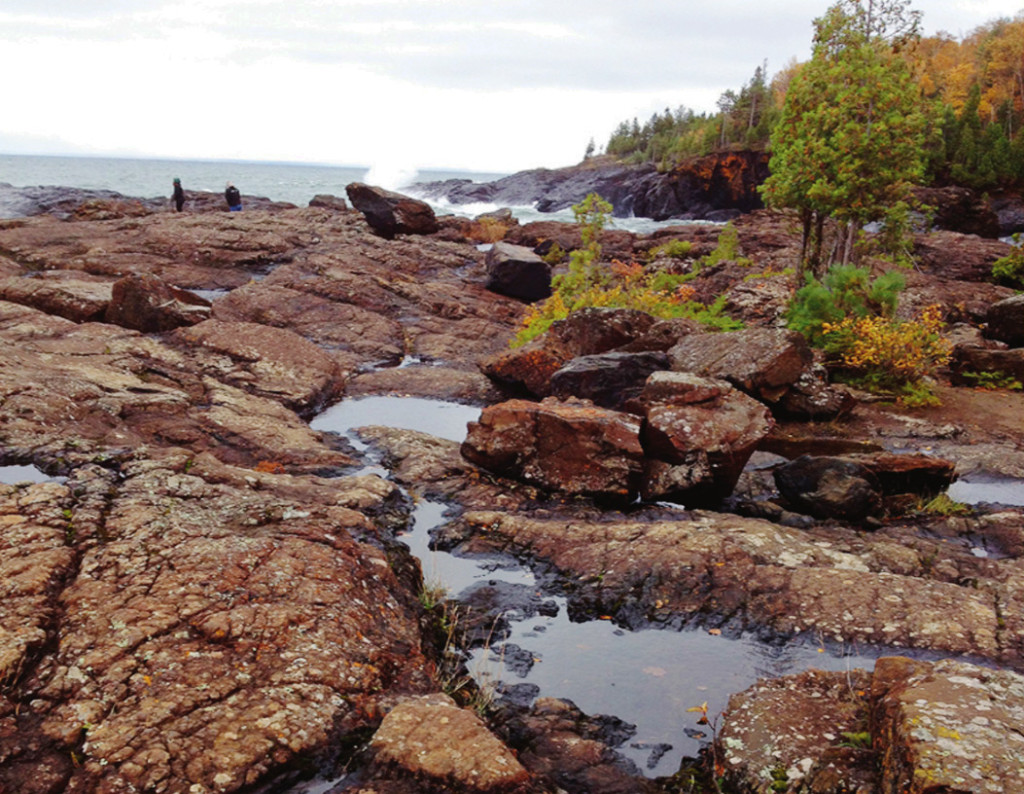 On February 5-6, 2016 the Cedar Tree Institute will be sponsoring its seventh annual Tai Chi retreat at Fortune Lake Lutheran Camp near Crystal Falls, Michigan.
It's entitled "Medicine as Movement: Tai Chi for Health and Wellness." No previous experience is needed. 6 P.M. Friday – 4 P.M. on Saturday.
---
REFLECTIONS ON THE WATERCOURSE WAY
Excerpts from writings of Thomas Merton and Thich Nhat Hanh
"The most precious gift we can offer is our presence. When our mindfulness embraces those we love, they will bloom like flowers."
"Jesus said, "I am the door." He describes Himself as the door to everlasting life, the door to the Kingdom of God." Te Buddha is also described as a door, a teacher who shows us the way in this life. In Buddhism such a special door is deeply appreciated because the door allows us to enter the real of mindfulness, loving-kindness, peace, and joy. It is said that there are 84,0000 Dharma doors, doors of teaching. If you are lucky enough to find a door, it would not be very Buddhist to say that yours is the only door…"
"The birth of every child is important, not less than the birth of a Buddha. We too are a Buddha, a Buddha to be, and we continue to be born every minute. We, too, are sons and daughters of God and the children of our parents. We have to take special care of each birth."

– Thich Nhat Hanh
"We stumble and fall constantly even when we are most enlightened. But when we are in true spiritual darkness, we do not even know that we have fallen."

– Thomas Merton
"What can we gain by traveling to the moon if we are not able to cross the abyss that separates us from ourselves? This is the most important of all voyages of discovery, and without it, all the rest are not only useless, but disastrous."

– Thomas Merton
"There is a logic of language and logic of mathematics. Te former is supple and life-like, it follows our experience. Te latter is abstract and rigid, more ideal. Te latter is perfectly necessary, perfectly reliable; the former is only sometimes reliable and hardly ever systematic. But the logic of mathematics achieves necessity at the expense of living truth, it is less real than the other, although more certain…..The logic of the poet, the logic of language or the experience itself, develops the way a living organism grows; it spreads out towards what it loves, and is heliotropic, like a plant."

– Thomas Merton
"It is true that our materialistic society, the so-called culture that has evolved under the promises of capitalism, has produced what seems to be the ultimate limit of this worldliness. Nowhere, except perhaps in the society of pagan Rome, has there ever been such a flowering of cheap and petty and disgusting desires and vanities as in the world of capitalism, where there is no evil that is not fostered and encouraged for the sake of making money.

We live in a society whose whole policy is to excite every nerve in the human body and keep it at the highest pitch of artificial tension, to strain very human want to the limit and to create as many new desires and synthetic passions as possible, in order to cater to them with the products of our factories, printing presses and movie studios and all the rest."

– Thomas Merton
During 2015, the Cedar Tree Institute designed and facilitated retreats at two monasteries, the Cenacle Sisters in North Chicago and the Pecos Benedictne in the mountains of New Mexico. Both involved integrated practices (Tai Chi Chuan and mindfulness disciplines). Together, we explored the writings of Trappist monk Thomas Merton and Buddhist teacher Thich Nhat Hanh.
Participants joined us from Michigan, Wisconsin, Iowa, Nebraska, Texas, New Mexico, Kansas, and Colorado. CTI will continue to build bridges and make connections with interfaith dialogues to find a deep common ground, bringing together spiritual insights from indigenous teachings and the wisdom from the great religious traditions.
---
CTI SERVICES
TRAINING & EDUCATION
The Cedar Tree offers site-specific training for human service agencies, government organizations, churches, and businesses in the areas of – Leadership Development – Environmental Projects – Mind/body Medicine – Projects with Native American Communities
COUNSELING & PSYCHOTHERAPY
The Institute works in collaboration with area mental health facilities, hospitals and churches. An emphasis is on uniqueness of each situation and the spirituality inherent in each individual. CTI offers assistance with – Relationship issues – Depression – Anxiety – Stress Management – Addictions – Vocational and Identity Transitions
MEDIATION & DISPUTE RESOLUTION
Mediation sessions follow a specific process. Settlements that result from such sessions have proven to be more enduring and less expensive than Court-ordered decisions. CTI offers this service for – Conflicts within Churches – Landlord-Tenant Disputes – Small Claims Conflicts – Employer/Employee Conflicts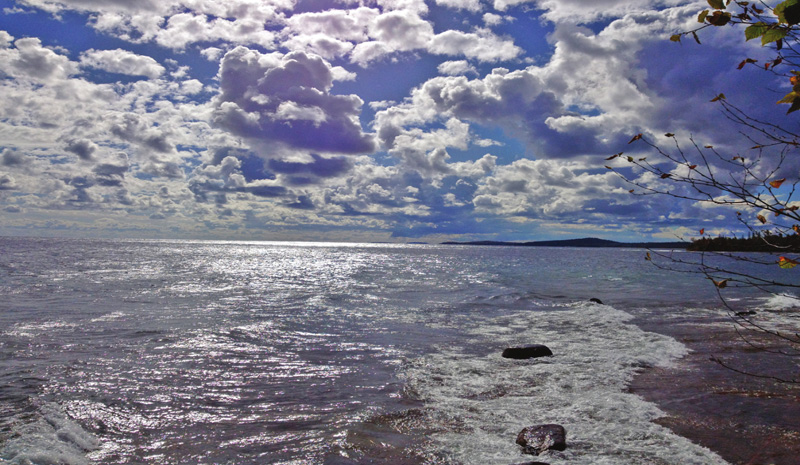 ---
ON THE HORIZON
The Winter Janus Project
(February)
"The Wounded Healer" Exploring the Gifts and Dangers of the Healing Professions
The St. Luke Project
(February – March)
A support group utilizing mind/body strategies and faith-based resources for individuals diagnosed with serious illness.
Messiah's "Journey"
(April)
Planting by middle school youth volunteers of 100 Northern White Cedar trees (April)
Below is a supportive, provocative word from Research Fellow John Rosenberg, currently serving as campus chaplain at Pacific Lutheran University, Tacoma, WA:
HOW TO TELL A WOLF FROM A DOG
A wolf carries his head down, tail down. He has a look of preoccupation, or worry, you might think. He has a family to support. He probably has a couple of broken ribs from trying to bring down a moose. He's not getting workman's comp, either, and no praise for his efforts. The wolf looks unemployed, fat broke.

On the other hand, a dog of similar features, a husky or malamute, has his head up, ears up, looks attentive, self-confident, cheerful and obedient. He is fully employed with an eye toward promotion. He carries his tail high, like a banner. He's part of a big organization and has the title of "man's best friend."

–Louis Jenkins, Nice Fish: New and Selected Poems, Holy Cow! Press, Duluth, MN, 1995
---
THE CTI INDEX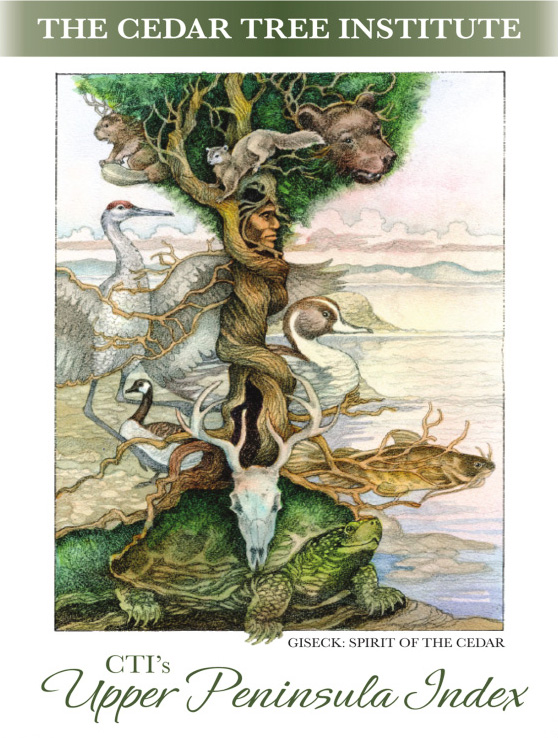 A collection of 100 facts you never knew about the Upper Peninsula is in print and available as a gift to our readers and friends upon request.
Thanks to Gabriel Caplett, organic farmer, writer and community organizer for his research skills!
---
Thank you for reading the Winter 2016 Ecotone Newsletter, the official Newsletter of the Cedar Tree Institute. Please share it with your friends!
Help us by sharing this content!