You are invited…
Since 1995, the Cedar Tree Institute, has offered over 50 workshops for clergy and faith leaders in Northern Michigan. The major focus for those learning experiences has been, and continues to be, the integration of spiritual disciplines into pastoral care. Guest presenters have included family physicians, psychologists and social workers.
Facilitators for this December series on "Dreams: God's Forgotten Language" include: Jon Magnuson, an ELCA Lutheran pastor and psychotherapist (MSW, ACSW), Barb Ojibway, a retired elementary school principle and NMU adjunct faculty member, and Ray Hasenauer, a family and child therapist. Lunch will be included as well as resource packets for all participants.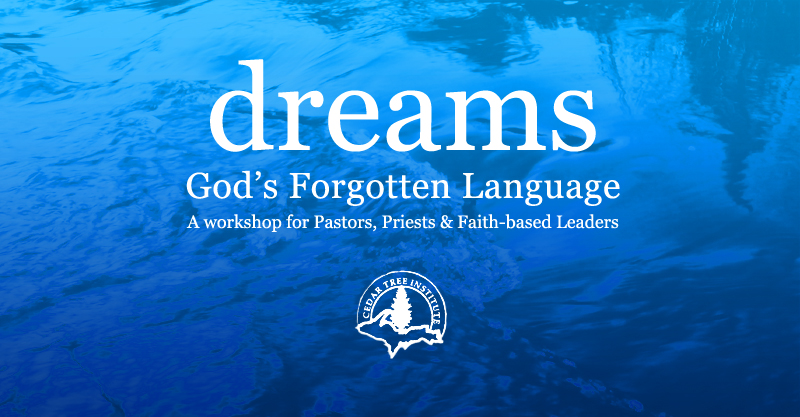 DREAMS: GOD'S FORGOTTEN LANGUAGE
A WORKSHOP FOR PASTORS, PRIESTS & FAITH-BASED LEADERS
Review the latest research on sleep and dreaming.
Trace the footprint of 250 dreams in the Old and New Testaments.
Explore the power of the unconscious, depth psychology, and the contributions of Carl Jung in understanding the transforming nature of dreams.
Learn to appreciate the emphasis that traditional spirituality of Native American peoples in the Upper Peninsula hold for the power of the dream.
Identify ways to integrate dream work in pastoral care and in one's own prayer and spiritual life.
FACILITATORS:
Jon Magnuson, MSW. M.Div, Lutheran Pastor, ELCA
with Barb Ojibway and Ray Hasenauer
SUGGESTED DONATION:
$45 Includes lunch and resource materials
TO REGISTER:
To register, click the "donate" button below the workshop you'd like to attend.
Simply complete the transaction process via Credit Card or PayPal. It's that easy!
WEDNESDAY, DECEMBER 16, 2015
ST. PAUL'S EPISCOPAL CHURCH
201 E Ridge Street •Marquette
9:30AM Registration: Workshop 10AM – 2PM
OR
FRIDAY, DECEMBER 18, 2015
ZION LUTHERAN CHURCH
950 Huron St. •St. Ignace, Michigan
9:30AM Registration: Workshop 10AM – 2PM
This workshop is sponsored by the Cedar Tree Institute, a nonprofit organization that provides services and initiates projects in the areas of mental health, religion, and the environment.
Help us by sharing this content!