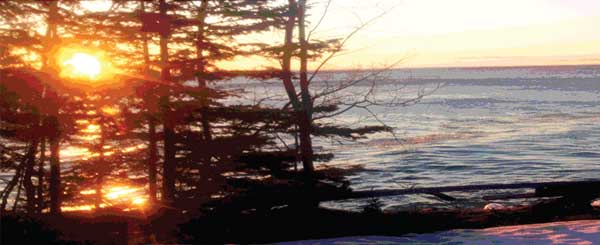 Seasonal Notes from the Cedar Tree Institute
Our brains are changing. Literally. Neural circuits and synapses are adapting to new kinds of input. Marvels of technology are replacing daily newspapers; live-streaming newscasts and Twitter feeds from around the planet now shape the worlds we perceive. Evidence confirms attention spans are becoming shorter. Anxiety disorders are exponentially increasing. A retail clerk at our local AT&T store last week, noticing one young, lonely customer had 30,000 text messages on her cell phone over 30 days, remarked to me, "We're drowning in communications, but nobody is communicating."
As modern life keeps pushing, accelerating and expanding, a part of us hungers to slow down. Welcome to maple syrup season in Northern Michigan.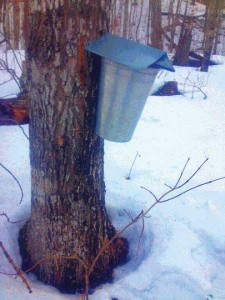 There's no quick, easy, or convenient way to reach the remote cabin where our equipment has been stored over the winter. Two feet of snow still covers the forest floor north of Marquette. Again this spring, buckets and tools will be pulled in by sled. Then there will be the waiting for nights below freezing and days in the high 30's. That's the formula for one of our Northern Hemisphere's most marvelous hydraulic equations: the one involving the earth's moisture suddenly rising up vertically into trunks of maple trees. The season can be as short as three days. Other years, the sap can run for two weeks or more.
Boiling processes that produce syrup will not be rushed. Ratios of sap that need boiling down to syrup can be, spring to spring, anywhere from 40–1 to 60-1. And there's always wood to cut and minor chores like cleaning bottles and keeping fires burning. One thing, however, is certain. There will be no rushing. It's a weather-enforced pause for anyone engaged in this work. A slowing-down time, controlled not by the clock but by the rhythms of the harsh, forest-framed landscape up here on the 46th parallel.
Finally, the golden, tasteful, and nutritious gift comes to the syrup maker, as it has for a thousand years. Not so much from work, but from waiting, watching.
So, take a single deep breath. Right now, wherever you may be. Slow down for a moment. Savor the pause. If no one is watching, bow reverently. Maple sugar makers in our northern forests gently remind us we are, more often than not, surrounded by a great, unseen Mystery, incomprehensible yet full of graceful abundance. May that doorway into this promise, a work of mostly pausing, watching, and waiting, be as humbling, surprising, and life-giving as it is for me.
NOTE: Hundreds of small bottles of maple syrup, hand-processed from a stand of maple trees on the shores of Lake Superior have been sent by the writer and received as gifts each spring over the last 20 years. Recipients have included an anti-mining activist in London, a Bishop of the Lutheran Church in El Salvador, four members of the Rolling Stones, 30 African musicians returning to their homes in Tanzania, the mayor of an isolated Inupiat village in Alaska, a mystic and nuclear physicist at Los Alamos, a veterinarian and his family in rural Oregon, a mathematician in New York, an editor in Chicago, a Secret Service Agent in Washington D.C., five Native American spiritual leaders in the Pacific Northwest, a speech pathologist and soccer player in Denver, a Jesuit priest in Seattle, and seven homeless men and women in the city of Marquette.
– JWM
CONTENTS
---
EarthKeepers (2004-2014)
A Prayerful Closing
On February 23rd, a group of volunteers came together and give thanks for 10 years of collaborative interfaith environmental work in Northern Michigan that involved 250 faith communities representing 10 religious traditions.
Shared efforts of our region's religious leaders during these years left an historic legacy that we hope will be carried on by current denominational leadership. A letter from Tom Merkel, currently a Roman Catholic seminary student, was recently sent to Pope Francis describing our efforts and his experience as an interfaith Earthkeeper student leader during 2011-13.
Participating denominations included: Roman Catholic, Lutheran (ELCA), United Methodist, Episcopal, Presbyterian, Unitarian Universalist, Baha'i, American Friends, Jewish, & Buddhist.
---
The Zaagkii (Wings & Seeds) Project Moves Forward
The Cedar Tree Institute is delighted to share news that the Zaagkii Project, a native plants recovery and pollinator protection initiative, has gained another year of support by the United States Forest Service, thanks to extraordinary leadership by Jan Schultz, Chief Botanist for the USFS Eastern Region, and Evelyn Ravendrin, tribal member of the Keweenaw Bay Indian Community.
Efforts will continue with Northern Michigan's five regional American Indian tribes protecting the natural "ecological footprint" of threatened native plants of the Upper Great Lakes Basin (blueberries, ginseng, wild leeks and cranberries).
As part of the Zaagkii initiative, the Institute will be planting 500 Northern white cedar trees this summer with help of at-risk youth, churches, American Indian tribal members, and volunteers from the Upper Peninsula Children's Museum.
---
Religious Life
A core component of CTI's mission is to support the life of 250+ diverse faith communities here in Michigan's Upper Peninsula. We're thankful for their ministries of compassion and social-class bridging projects like Room at the Inn (Marquette's homeless shelter program). CTI continues to celebrate faith leaders taking on prophetic, collective positions on social justice, health, and environmental issues.
Over recent weeks, CTI's Director coordinated a 5-week "World Religions" NGLS/ELCA Lay School series with colleague Pastor Warren Geier (Ishpeming) and facilitated (with Jim Shirtz) the 2015 St. Luke's Project in partnership with Messiah Lutheran Church. (A 7-week support group for those diagnosed with cancer).
In February, he facilitated a two-hour discussion on "Spirituality in Medical Care" for Northern Michigan's School of Nursing and, during the 4 Sundays in May, will be leading worship services for Eden Lutheran Church in Munising. On 3/10 he made a presentation, "Religion, Ethics, and the Environmental Crisis," at the Keweenaw Bay Indian Community College for students and community members.
In May of 2015, Side by Side, a book of essays on the Jesuit priest Teilhard de Chardin and the 20th Century's renowned psychoanalyst Carl Jung will be published by Fisher King Press. Edited by Fred Gustafson, former mission developer and pastor of Prince of Peace Lutheran Church in Harvey, it includes an article "Perspectives from Granite Point" written by CTI's Director, with references to a recent Spirit of Place kayak trip along the shores of Lake Superior.
---
On the Horizon
THE WATERCOURSE WAY
A Retreat on Mindfulness Practices, Tai Chi Chuan, and the Writings of Thomas Merton
June 11-14 (Chicago)
November 5-8 (New Mexico)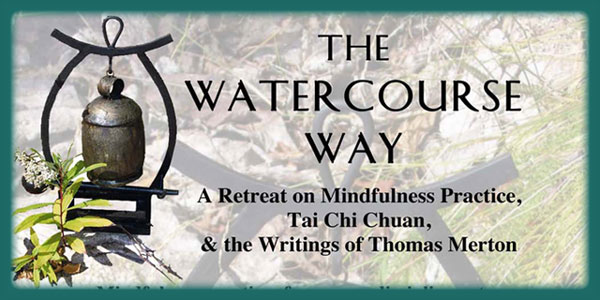 THE IRON BUTTERFLY
"Food as Medicine" June 20, 9 A.M. – Noon
Presque Isle Park Pavilion, Marquette.
A look at the controversial relationship of food to health. With food samples and stories from community members living dietary choices.
TAI CHI (MIND/BODY PRACTICE)
Wednesdays thru May, with Saturday workshops April 18 and May 16.
THE U.P. ALZHEIMER REGIONAL CONFERENCE
May 20 at Northern Michigan University
CTI'S Director joins hospice medical director Dr. Michael Grossman and CTI's good friend Ruth Almen, for a presentation, "The Uneven Journey: Dealing with Aggression, Irritability, and Depression in Patients and Caregivers."
LANGUAGE OF THE HEART
In April, the CTI Director with social worker Ray Hasenauer and Larry Skendzel, MD, leads an evening workshop on empathy-training for six medical students affiliated with MSU's School of Human Medicine.
SPIRIT OF PLACE
August
This year, as a tribute to the historic "Black Robe" legacy in Northern Michigan, the Cedar Tree Institute has invited members of the Jesuit Order (Society of Jesus) for this five-day kayak retreat.
---
In Memoriam
Adrian Luther Mattson 1937-2015
From former years in Oregon, a mutual friend of Carl and Bonnie Erling, a live-by-the-seat-of-your-pants philosopher, explorer, shoestring budget world traveler, and survivor of forbidden nights in Nairobi.
Marcus Borg 1942-2015
Theologian, personal mentor and friend, critic of Biblical literalism, dream colleague with Leslie and Diana, nationally known author, unparalleled "protector of Mystery."
James Quirk 1940 -2015
Retired art professor at NMU, faithful member of St. Mark's and Messiah's faith communities. A wish to be granted soon: His ashes to be placed in a 2 ft. replica of a Viking ship (crafted himself) and set aflame on waters of Lake Superior.
John Carlson 1936 -2015
With his wife Linda, a faithful supporter of the Cedar Tree Institute's vision. An extraordinary retired businessman with keen instincts for judging human character, a lover of music and theater, a bread baker and Fair Coffee Exchange volunteer with a marvelous history of support for the work and community of Messiah Lutheran Church and LCM at NMU.
Sharon Bjork 1946-2015
Beloved wife of Cary Bjork and mother of Bryan and Adam, overseas mission worker with her physician husband, faith community volunteer, grandmother, gentle spirit, participant in the Institute's first St. Luke Project (2014).
Pat Ryan O'Day 1932-2015
Editor of the Marquette Monthly, fierce defender of the free press, eyes that radiated a Celtic sunrise, exquisite wordsmith, a woman of elegance, remarkable grace, and thoughtfulness.
Stu Farber 1948 -2015
Physician, leader in Palliative Care at the University of Washington, special presenter with his wife Lu for our CTI's 2010 Summer Janus Project (hospice worker training), colleague of hospice medical directors and CTI Advisory members Mike Grossman and Larry Skendzel.
---
CTI's Upper Peninsula Index
Years the "Finland Calling" show was on the air in Marquette: 53
Estimated UFO sightings in the U.P. during a similar span of time: 60
Confirmed cougar sightings in the U.P. since 2008: 28
Year of last U.P. cougar sighting, before 2008: 1906
Dollars Cliffs Natural Resources saved annually with loopholes crafted by a legislator now consulting for the company: 25,000,000
Amount U.P. residents are now forced to pay every month in, in dollars: 8,000,000
Amount Lakenenland Park was told to license to serve free hotdogs costs, in dollars: 750
Amount it costs a tourist to use the 37-acre sculpture park, in dollars: 0
Acres of U.P. state land a limestone mining company (Graymont) is planning to buy: 10,000
Jobs Graymont says its limestone mine would create: 45
Bats estimated to have died of white-nose fungus in Canada/Eastern U.S. from 2006 to 2012: 6,700,000
Insects a bat can consume in one day: 30,000
Researched by Gabriel Caplett, organic farmer, writer and community organizer.
---
In Appreciation
For those who choose to be supportive partners for CTI in this corner of the Great Lakes Basin, financial donations to the Cedar Tree Institute in 2015 will:
Provide music lessons to 40+ youth who otherwise could not afford purchase of instruments or lessons from a professional instructor (MFAK)
Enable volunteers to plant 500 Northern white cedar trees
Assist five American Indian tribes in restoring native plants and protecting pollinators
Build cross-cultural partnerships with tribes and 15 faith-based communities
Facilitate workshops using mind/body practices for Alzheimer patients, clergy, prison inmates, medical students, and hospice workers
---
Music For All Kids – MFAK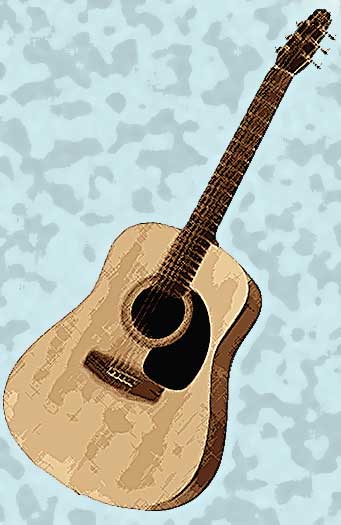 This program provides music lessons by local musicians for youth who might not otherwise be able to afford them. Ken Kelly, CTI Advisory Board Member and former faculty member with the Social Work Department at NMU, serves as a mentor for this unique grass-roots outreach. Our goal is to help launch MFAK as a nonprofit organization by September of 2015.
Special thanks to CTI friends Ray Hasenauer and Bill Davis for providing key guidance along the way. MFAK breaks through social and economic barriers with the creative gift of music. It carries one of the finest visions CTI has supported over the years.
For more information call Shane Murray at 906-235-5163
---
CTI is a nonprofit organization initiating projects & providing services in the areas of mental health, religion & the environment.
One-third of our services are pro bono. Counseling services are available with Jon Magnuson (MDiv., MSW) and are covered by most insurances.
For information contact us at 403 East Michigan Street, Marquette, MI 49855 or contact us via email. Telephone & Fax: 906-228-5494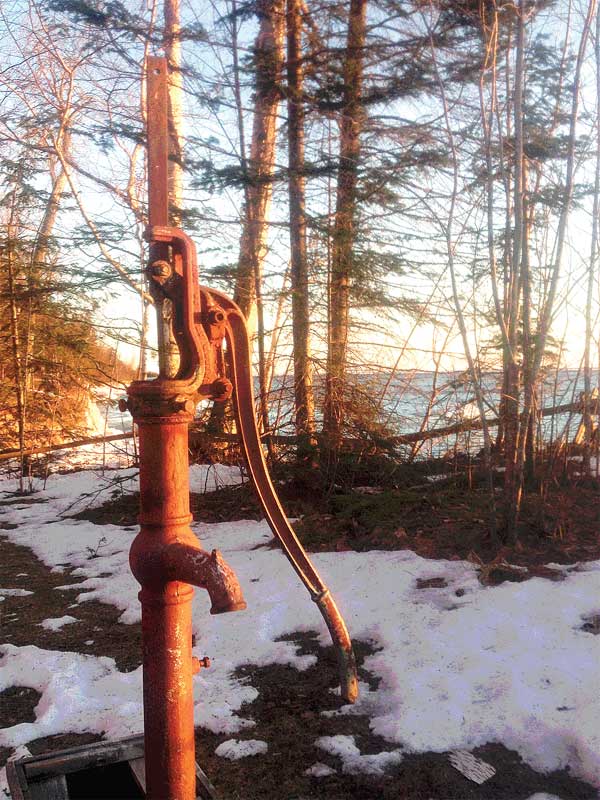 The Spring 2015 Equinox Newsletter is brought to you by Cedar Tree Institute.
Help us by sharing this content!