Interfaith Energy Conservation and Community Garden Initiative Across the Upper Peninsula to Restore Native Plants and Protect the Great Lakes from Toxins and Airborne Mercury Under the EPA Great Lakes Restoration Initiative
The Earthkeepers II Initiative is sponsored by 10 U.P. Faith Communities and Assisted by Students at Northern Michigan University, the U.S. Environmental Protection Agency, the U.S. Forest Service and the Native American Communities of Northern Michigan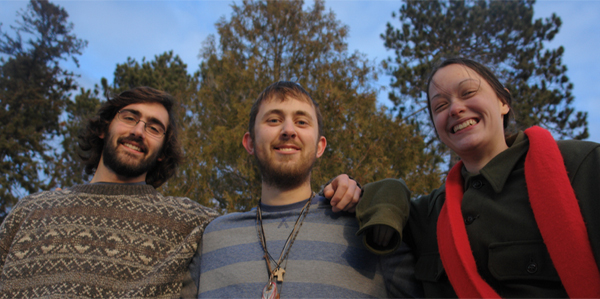 (Marquette, MI) – An Interfaith Energy Conservation and Community Garden Initiative across the Upper Peninsula will be announced during a press conference at 11 a.m. ET this Friday (1-18-13) inside the Pavilion at Presque Isle Park in Marquette, Michigan.
The press conference will be hosted by the Northern Michigan University EarthKeepers II Student Team: Katelin Bingner, Tom Merkel and Adam Magnuson.
The NMU students are planning to write and record public service messages with energy conservation tips, information on protecting the Great Lakes and about the importance of native plants restoration – with assistance from U.P. radio stations, newspapers and television stations.
The EarthKeepers II Initiative is sponsored by the churches/temples of 10 faith traditions that were involved in the original Earth Keeper Initiative (2004-2009): Roman Catholic, Episcopal, Jewish, Lutheran, Presbyterian, United Methodist, Bahá'í, Unitarian Universalist, Zen Buddhist.
Speaking at the press conference will be the Bishops and other denominational leaders from these 10 faith communities plus U.S. Forest Service (USFS) Regional Botanist Jan Schultz, Delta Green Ex. Dir. Doug Russell and Cedar Tree Institute Ex. Dir. Rev. Jon Magnuson.
Over the next two years, the EarthKeepers II projects include energy conservation audits at 40 U.P. churches/temples plus grants ranging from $500 to $1,000 for each site to assist in changes/repairs.
These faith communities are demonstrating the importance of energy conservation to lower utility bills and reduce and prevent toxins/pollution including airborne mercury from entering Lake Superior as part of the EPA Great Lakes Restoration Initiative.
Congregations will be given information on energy conservation kits and utility company rebates to lower household bills.
Among the energy conservation costs/analysis involved in the audits are insulation (walls/roof), lighting fixtures, ventilation, and heating systems like boilers/furnaces including whether they units can be updated with new controls, repaired or replaced.
The project includes 30 community gardens (approx. two per county/more possible). These gardens will grow native (indigenous) plants and vegetables for community distribution and food pantries.
The nonprofit Cedar Tree Institute in Marquette has been extensively involved in U.P. native plant restoration to fight invasive species that are vital to the health of all wildlife. For example, the U.P. is on a fight path for migrating Monarch butterflies who depend on milkweed for food and reproduction.
Project participants include the nonprofit Cedar Tree Institute, EPA, USFS Eastern Region 9 technical assistance, nonprofit Delta Green.
Religious community leaders signed the northern Michigan Earth Keeper Covenant in 2004 pledging to actively participate in environment projects, build bridges with other faiths and reach out to Native American communities.
EarthKeepers II is the next phase of the Earth Keeper Initiative that held three Earth Day Clean Sweeps involving 150 churches/temples plus planted 12,000 trees during a summer that saw several severe forest fires across the U.P.
The U.P. Earth Keepers Clean Sweep events (2005-2007) involved free Earth Day collection sites across a 400-mile area of northern Michigan.
Over 15,000 residents turned in over 320 tons of e-waste (old computers/cell phones), 45 tons of Household Hazardous Waste (HHW) including car batteries, oil-based paint, pesticides, liquid mercury, and other common poisons; and over one ton of pharmaceuticals including $500,000 in narcotics.
The hazardous waste was either recycled or properly disposed.
Check out the official Earthkeepers II website at earthkeepersup.org.
Help us by sharing this content!