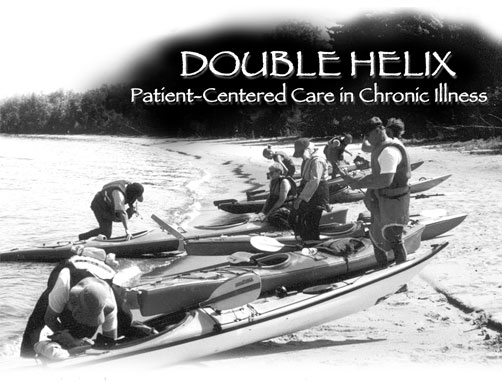 The Cedar Tree Institute in cooperation with Bell Hospital presents:
2012 Janus Project Summer Seminar
August 24-27, 2012
A Colloquium for Medical Professionals Working with End-Of-Life Care
DOUBLE HELIX
Patient-Centered Care in Chronic Illness
A three-day kayak trip along 20 miles of picturesque Lake Superior shoreline. All equipment and instruction in kayak use provided. No previous experience necessary.
Two nights at Bay Cliff Health Camp and one evening at a remote Lake Superior cabin.
Hearty meals, including smoked fish and homemade bread.
Approved for 9 CMEs with the American Medical Association. Limited to 12 participants.

FRIDAY: AUGUST 24
4-5:30 p.m. Registration
5:30-6:30 p.m. Dinner
7 p.m. Orientation
7:30-9 p.m. Presentation #1 – (Magnuson) "Double Helix: Reciprocity & Resonance in Caregiver/Patient Relationships"
SATURDAY: AUGUST 25
7:30-8 a.m. Tai Chi
8-8:45 a.m. Breakfast
8:45-10:15 a.m. Presentation #2 – (Gamber) "Complications with Psychotropic Medications for Chronic Illness"
11 a.m.-4 p.m. Kayak instruction, lunch, reflection time
5:30-6:30 p.m. Dinner
7 p.m. Presentation #3 – (Skendzel & LaBeau) "Protecting Patient Dignity in Advance-Care Planning"
SUNDAY: AUGUST 26
7:30-8 a.m. Tai Chi
8-8:45 a.m. Breakfast
8:45-10 a.m. Presentation #4 – (Grossman) "Dissonance in the Experience of Patient Care for the Terminally Ill"
10:45 a.m.-4 p.m. Kayaking, lunch, reflection time
5:30-6:30 p.m. Dinner
7-8:30 p.m. Presentation #5 – (Magnuson & Grossman) "Wounded Healers: The Dynamics of Empathy"
8:30 p.m. Group reflection
MONDAY: AUGUST 27
7:30-8 a.m. Tai Chi
8-8:45 a.m. Breakfast
8:45-10:15 a.m. Presentation #6 – (Hefke) "Dance of the Double Helix: A Personal Journey"
10 a.m. Closing evaluation
10:30 a.m.-4 p.m. Kayaking, lunch, reflection time
4:30 p.m. Departure from the Bay Cliff Health Camp
Seminar Focus:
Review of the dynamics of effective communication (verbal & non-verbal)
Practical exercises to deepen empathy with patients & colleagues
Understanding dimensions of dissonance in patient/caregiver relationships
Protecting patient dignity in the process of advance-care planning
Interventions for pain management at the end of life using mind/body medicine strategies
Emotional, pyschological & spiritual challenges in facing terminal illness
Facilitators:
Michael Grossman, MD
Larry Skendzel, MD
Jon Magnuson, MDiv, MSW
Guest Presenters:
Carol Gamber, M.D. – Psychiatrist, Marquette General Hospital
Erika Hefke, R.N. – Manager, U.P. Home Health & Hospice
Kate Labeau, R.N. – Clinical Manager, Lake Superior Hospice
Registration:
Register by contacting Tracy LaPlante – Bell Hospital Medical Staff Coordinator – (906) 485-2619. Confirm registration by fax (906) 485-2737 or phone. Fee includes 3 nights of lodging, 9 meals, kayak equipment, training and 9 CMEs with the American Medical Association.
Physician ($595)
Nurse/hospice worker/medical professional ($495)
JANUS PROJECT
In 1999-2000 a group of physicians, medical specialists, clergy and social workers met together for a training program sharing their experiences providing medical care for end-of-life patients. Initially funded by a small grant from the Blue Cross Blue Shield foundation and coordinated by the Cedar Tree Institute, this project set into motion a framework for nine ensuing summer seminars and eight winter symposiums. More than 130 physicians, nurses and hospice workers from across the Upper Peninsula of Michigan have participated.
These training programs are intentionally shaped by mind/body experiences (hiking, Tai Chi, kayaking, cross-country skiing) and small-group dialogue. Guest participants have joined us from Wisconsin, Texas and Massachusetts. Drs. Mike Grossman and Larry Skendzel, medical directors for Marquette County's two hospices, continue to work along side Jon Magnuson, a social worker and clergyman, shaping the Janus Project's unfolding vision.
Janus refers to the Greek god of thresholds, gates & doorways.
Help us by sharing this content!